NEWS
Is Alyson Hannigan Expecting Baby Number Two?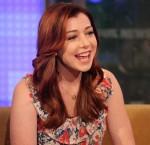 As Alyson Hannigan films the next season of How I Met Your Mother and also American Reunion, maybe she's also working on another sequel of her own? As the actress was spotted with her husband, Alexis Denisof, and their two year-old daughter on Friday night, speculation is swirling as to whether or not she was also sporting a baby bump!
As pointed out by E! Online, perhaps the actress is following in her character Lily's footsteps on the sitcom and expecting a baby! It sounds like motherhood agrees with the multi-tasking mama as she recently gushed about her two year-old Satyana to OK!, "She's just so grown-up. She's completely verbal, and she's just hilarious. She's adorable."
Article continues below advertisement