NEWS
Alyson Hannigan Talks Keeping Her Head on Her Shoulders With Toddler Satyana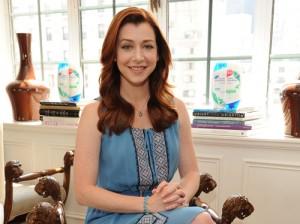 Alyson Hannigan is currently filming American Reunion; gearing up for the next season of her hit CBS sitcom, How I Met Your Mother; fulfilling her duties as Head & Shoulders' official female ambassador; and on top of all that, chasing around her adorable 2-year-old daughter, Satyana Denisof. OK! caught up with the fiery actress and doting mom during her jaunt in the Big Apple, and she shared some hilarious stories about her little girl and her latest projects!
Article continues below advertisement
Can you talk about your collaboration with the new Head & Shoulders campaign?
AH: I'm really excited to partner up with Head & Shoulders and help create the "Good Girlfriend Guide," which is basically a manual of girlfriend-to-girlfriend advice on those head-scratching moments where you don't know how to deal with something or you have great advice you want to share — from beauty tips to relationship tips to parenting, any sort of advice you would share with your girlfriends. There will be an e-book that women can compile with all the great tips shared, and you can go to the Head & Shoulders for Women Facebook page to share your stories and advice, as well as read other women's advice. And people who have the best advice will win a trip to L.A. for the launch of the book. It will be a great space for finding out really clever tips that you and your girlfriends would share.
OK! NEWS: ALYSON HANNIGAN TALKS AMERICAN REUNION — "I HAVEN'T MET MY CHILD YET"
What do you think lured you to the project?
AH: Well, I'm one person that loves advice, and I like giving advice so that was a natural fit. Head & Shoulders is definitely a fantastic product that's made my hair look beautiful for a long time. The two sort of merged together.
Do you view the campaign as a face-lift for the brand?
Article continues below advertisement
AH: I always thought of it as my husband's shampoo until one day, I ran out of my shampoo and I tried his, and then I was like, "Wait a second. You've totally been holding out on me!" And my hair looked like a hair commercial. That's how I was introduced to it, so it really struck me when they said just to market women. I think is a great way to sort of make it fun and interesting — make it more of a women's thing.
Do you have a daily hair routine?
AH: All of my sort of vanity stuff has definitely shortened because of being a mom of a 2-year-old who oftentimes is knocking at the shower door — "Let's play." So I really just wash and go. Head & Shoulders is so good because I can wash and go. It gives my hair so much body and shine; it's just such a great product. It's not like some fancy product that doesn't do anything for your hair.
Article continues below advertisement
And you've been very busy lately. How is American Reunion filming going?
AH: Oh, it's fantastic! We're having so much fun, and it really does feel like a great reunion, a reunion you would actually look forward to rather than dread. And it's just so, so much fun and super funny, so it really feels a lot like the first film, except that we know each other even better now.
What can we expect on How I Met Your Mother this season? Lily is pregnant. That must be crazy, and you're a mom yourself. What has that been like?
AH: I really look forward to the season, and I can't wait to see what the writers come up with. I'm sure the Lily-and-Marshall-pregnancy part will be so much fun, and I'm sure things will not go totally smoothly cause that's not/wouldn't be as funny.
How do you and the cast relax behind the scenes on set when you're shooting, now that you're a mom and Neil Patrick Harris has twins, and everyone has things to do. Is there anything you guys look to for some downtime?
Article continues below advertisement
AH: You know, there is a lot of baby talk on set now that the majority of us have children. And in my life, there is a lot of Angry Birds playing when I'm on set or Twitter. But you know, if we actually have time to sort of leave the set, it's all about family for me. I just run and either go play with Satyana if she's there or go call and check on her if she's not there.
Any milestones recently with your little girl?
AH: Oh, my gosh, it feels like every day. She's just so grown-up. She's completely verbal, and she's just hilarious. She's adorable.
Can you think of the funniest thing she's done recently?
AH: I was just noticing recently that, for some reason, she has a way of getting strangers to give her jewelry. I don't know why, but she just charms them out of it I guess. The other day she's talking to this women on the plane, and next thing I know, she's holding this ring. This lady had let her play with the ring, and I was like, "Sweetie, I think we should give it back to this nice lady," and then last night at dinner, somebody was giving her a bracelet. It's just she's like a little jewelry magnet for some reason.
Article continues below advertisement
Is she ever on set with you?
AH: Yes, absolutely. I haven't spent one night away from her yet, so I feel like the first night away is either going to be when she spends the night at a friend's or goes to college. Whichever comes first.
Has she had a play date with Neil's twins yet?
AH: You know, we saw Neil. She met the twins at a friend's Christmas dinner, but that was, you know, obviously in December, and they were just little babies. And she just stood over them and watched them sleep. But no, we haven't seen them lately.