NEWS
Amber Portwood on Felony Charges: "There's Nothing Against Me"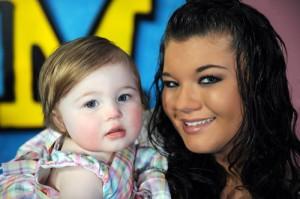 Even though the Anderson Police Department has sent out a press release stating Teen Mom Amber Portwood has been officially charged with two felonies and one misdemeanor, Amber believes "there are no charges."
OK! EXCLUSIVE: INSIDE BENTLEY'S 2ND BIRTHDAY PARTY!
The first stage of grief is denial, so maybe this is Amber's way of trying to cope with the rather scary news that she is now faces three years in jail and up to $10,000 in fines.
Article continues below advertisement
The 20-year-old Teen Mom was charged with two felony counts for being violent towards Gary Shirley in front of their daughter Leah and one misdemeanor for domestic abuse.
OK! NEWS: TEEN MOM AMBER PORTWOOD CHARGED WITH TWO FELONY COUNTS; ONE MISDEMEANOR
But Amber is denying the charges.
"I didn't hit Gary in front of Leah so there are no felony charges," Amber told HollywoodLife. "None of this is true, there's nothing against me. They can't charge me if they don't have proof."
According the police's press release, it sounds like they feel they have plenty of proof.