NEWS
Teen Mom Amber Portwood Charged With Two Felony Counts; One Misdemeanor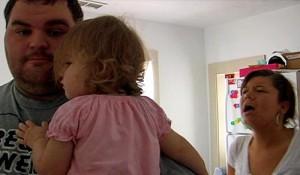 The ongoing investigation against Teen Mom's Amber Portwood for her violence towards her daughter's father Gary Shirley has lead police to officially file three criminal charges against her.
OK! EXCLUSIVE: INSIDE BENTLEY'S 2ND BIRTHDAY PARTY!
According to a press release from the Anderson Police Department, the Anderson Police have filed three criminal charges against the Teen Mom cast member. The 20-year-old is alleged, according to the probable cause affidavit filed, to have battered 24-year-old Gary three times.
Article continues below advertisement
A criminal investigation was launched after an episode of Teen Mom aired in September where Amber was shown hitting Gary several times.
Amber, according to August 14, 2009 police documents, "shoved Shirley against a wall, slapped him on the face and choked him. The incident was witnessed by the couple's one-year-old child who sat in a child seat on a nearby bed."
Then, on July 14, 2010, she was "videotaped slapping Shirley five times, punching him three times and kicking him at least once" and on July 18, 2010, "Portwood is again videotaped in the presence of their child slapping Shirley in the face, and punching him several more times in the face and upper-body."
OK! NEWS: 16 AND PREGNANT STARS ANSWER FAN QUESTIONS!
The press release also states that both Amber and Gary gave police statements admitting to the three incidents mentions.
Now, Amber has officially been charged with "one misdemeanor count of domestic battery and two felony counts as the violence was committed in the presence of their child."
Domestic Violence is a felony when committed in the presence of a child less than 16 years old.
Article continues below advertisement
Amber faces up to three years in jail, if convicted, and fines of up to $10,000.
OK! NEWS: ALL NEW TEEN MOM 2 COMING TO MTV IN JANUARY
Earlier in the week, Amber spoke with MTV about the current state (at that time) of her relationship with Gary and her daughter Leah.
The Teen Mom said she is now dating someone new.
"I am. I have one person who I like," Amber said. "We've been talking for about three weeks now but I've known him for nine years. He's a very sweet, amazing guy."
"Is there still a shot at making things work with Gary?" MTV asked.
"No, he's too mean to me."
OK! NEWS: POLICE PLAN TO SUBPOENA TEEN MOM'S AMBER PORTWOOD
But she did say she is trying to work out co-parenting.
"I have 100 percent custody of that baby," Amber said when asked who Leah is living with right now. "The only reason she's living with Gary right now is because I was having trouble with my neighbors yelling at me and starting stuff. It wasn't safe for her. I'm in the process of moving into a new house, and when I'm fully moved in, she'll live with me just like before.
How is she coping with the stress?
"I'm going to therapy and seeing my psychiatrist," Amber admitted. "That's the only thing I can do right now. It's been really hard for me."
Unfortunately, it just got a lot harder.