NEWS
Amber Portwood Scolded By Dr. Drew on 'Teen Mom' Reunion: 'Cut That Crap Out'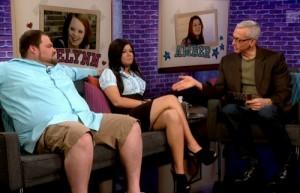 Article continues below advertisement
"Gary, you've changed a lot since we first met you at 16 and Pregnant. Amber, has he matured through all this?" Dr. Drew asked.
"No, he actually went downhill," she snapped.
"That's nasty," Dr. Drew said. "Remember, we were not going to do mean comments to each other. Let me just say something, this behavior you're talking about is perfectly normal for 20-year-old couples. For mom and dad? Unacceptable. You've got to cut that crap out. Both of you."
What do you think of Dr. Drew's advice to Amber and Gary?
OK! NEWS: TEEN MOM FINALE CLIP — CATELYNN CONSOLES TYLER AFTER HIS DAD, BUTCH, IS TAKEN BACK TO PRISON
Amber was also joined by her mother, Tonya, on the couch and Dr. Drew tried to ask about the death of Amber's younger sister.
"I went over to check on her and picked her up and just realized that she wasn't breathing," Tonya recalled of of the tragedy that happened when Amber was just six. "She hemorrhaged from the nose. Immediately, I just freaked out."
The conversation was too emotional for Amber and she had to walk offstage crying.
Watch the emotional clip, below.