NEWS
Amber Portwood "Stabilized & Awake" After Alleged Suicide Attempt, Insider Tells OK!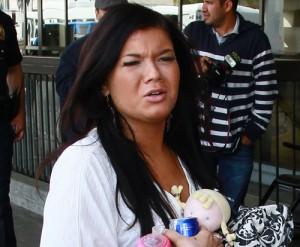 Teen Mom star Amber Portwood is currently recovering in an Indiana hospital after she threatened to take her life earlier today by allegedly overdosing on morphine pills.
"It's true," an insider close to the situation tells OK!. "She is stabilized now and awake at St. John's. It was morphine pills she was on. She's been taking them since she came to California for the Teen Mom reunion finale."
OK! NEWS: AMBER PORTWOOD LOSES CUSTODY AGAIN; GARY SHIRLEY GRANTED PRIMARY CARE OF BABY LEAH
Article continues below advertisement
Amber has had a very difficult year, after her domestic disputes with her estranged boyfriend, Gary Shirley, led her to lose custody of their 2-year-old daughter, Leah.
"She can't handle not seeing Leah," our insider says of what caused Amber to try to take her own life. "She really only gets to see her maybe once a week for an hour, and that's it. And it's supervised by the CPS. "
Despite her dependency problem, Amber wants to avoid rehab.
"She does not want to go to rehab, for sure," our source says. "She is afraid of the two years probation. She and Gary are fighting all the time and she can't see Leah, so all of that is enough. She's always dealt with depression and used to just sleep like 20 hours a day, but then she had to be awake for MTV and court dates, so she started taking stronger pills to be able to do that."
Article continues below advertisement
And it seems as if Gary does not want to deal with her emotional roller coaster anymore.
"Gary thinks she's stupid and he's over her," our source says. "He doesn't feel sorry for her at all. He just thinks she's stupid."
But Amber's actions do seem genuine and not just a ploy for attention.
"She's depressed and took a bunch of pills," the insider explains. "She's never done that for attention. She's done other things. She's made threats of suicide before, but it never got out to the press that she actually tried it. She's threatened Gary many times that she's going to kill herself. That's very true, but she's never gone through with it."
Gary became concerned when Amber turned to morphine instead of her usual choice of Xanax and alcohol, according to our source.
"He doesn't want to talk too much about it, but he did say that the part about the rope and the pills is true. He is tired of her doing this. He isn't feeling sorry for her at all right now."
As of now, Leah has been with Gary for the past two weeks.
And it looks like Teen Mom fans will catch all of this Amber drama on the third season of the hit MTV reality show — the cameras were rolling at her home.