NEWS
Amber Rose "Did Not Send" Naked Photos to Nicki Minaj's Ex-Boyfriend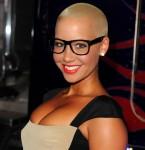 Amber Rose isn't happy about the recent rumors hitting the Web that claim she sent naked pictures of herself to Nicki Minaj's ex-boyfriend. Luckily, Amber has her Twitter account to put the rumors to rest right away.
OK! NEWS: AMBER ROSE TWEETS OFF AT VIBE MAGAZINE'S "UNTRUE & RIDICULOUS" STORY
A new report has been circulating the Web today claiming Amber sent naked pictures of herself to Nicki's ex-boyfriend, according to The Washington Post's Celebritology. Even the extremely graphic photos have made their way online, but Amber says the pictures are not of her.
Article continues below advertisement
Amber has denied the report on Twitter and the site that initially reported the claims has allegedly retracted the item.
"These blogs do nothing but try to ruin ppls lives I DID NOT send pics to anyones boyfriend pls stop with the lies," she wrote. "Its so ridiculous. smh."
"Yall been doing this to me for 3 years now it shld be illegal to write fake stories about ppl the media never wants to see anyone happy," Amber added.