NEWS
America Ferrera Preps for Life After 'Betty'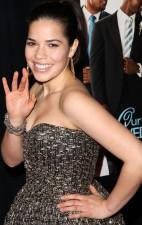 Now that Ugly Betty is winding down after four seasons, America Ferrera is looking to the future.
What's next on her agenda?
"Sleep," she confesses during her Our Family Wedding premiere held Tuesday at NYC's Loews Lincoln Square. "I have this and then How To Train Your Dragon, which is an animated film that I did coming out in two weeks after this film. There are a lot of things that I'm very excited to do, none that I can really talk about."
Article continues below advertisement
One thing has been decided: The Big Apple will be likely be home.
"I think I will stay in New York," she says, adding that her favorite restaurant is Broadway East on the Lower East Side.
Although she plans to relax post-Ugly Betty, getting married isn't necessarily in the cards for the 25-year-old actress whose longtime boyfriend is actor Ryan Piers Williams, 28.
"Actually, no," she says. "I don't know. One of the things I love about my character is that the wedding day isn't the most important thing to her. She wants to live her life with the person she loves the most, and that felt like a modern story to me – something I could relate to."
Psst: She refuses to go there when asked about how her family gets along with boyfriend Ryan, even though the movie is about a bride and groom whose families are at war while they plan a wedding.
Still, Ugly Betty co-star Mark Indelicato thinks America would make a blushing bride, and not a bridezilla.
"I think that she's opinionated and knows what she wants, but I think if she finds the right person to make the wedding happen, then it will work out in her favor," he tells me.
Article continues below advertisement
For Lance Gross, who plays her groom in the romantic comedy, wedding planning is familiar territory considering he is gearing up for his own summer wedding to America's Next Top Model winner Eva Pigford.
His favorite part? The tastings.
"We're having our wedding catered by Crustaceans, which is a restaurant in Beverly Hills," he tells me. "I'm looking forward to that. It's my favorite restaurant. I haven't tasted the cakes yet. I like cake."
He lets it slip that America is clumsy, but agrees that she would make a great bride. "She's a warm spirit and easy to get along with," Lance says. "We're like family now."
What might surprise us about America?
"She's so smart," Regina King, who plays the groom's father's best friend, tells me. "She's a provocative young woman. Watching her roles you would think that possibility could be, but you never know until you meet someone. She's thinking so much bigger than this. At 25, most people – male or female – it's all about them. She's very aware of where she is, who she is, her experience. She's an old soul."
Article continues below advertisement
Her Sisterhood of the Traveling Pants co-star Blake Lively would agree.
"She's a mother to me," the Gossip Girl told me in 2007. "She's always taking care of me. When I decided I was going to move to New York for the show, she sat down with me. I knew I wanted to live on the West Side, and she said 'no you need to live on the East Side because of this, this and this.' She makes lists of pros and cons about why I shouldn't get another dog. She's like 'this is why you shouldn't get one.' She's always very nurturing with me, which I appreciate very much. She's great. She's awesome."