NEWS
'American Idol' Alum James Durbin on 'The X Factor': "It was Just Campy and Ridiculous!"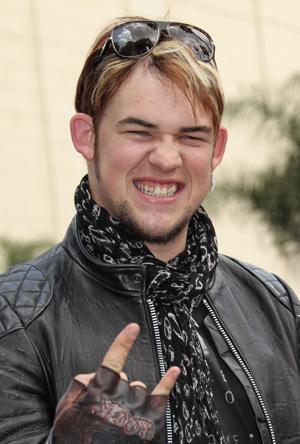 James Durbin came in fourth place on the last season of American Idol and has been busy promoting his new album, Memories of a Beautiful Disaster, even performing on Conan last week, a dream come true for James.
But did James have time to watch Simon Cowell's show The X Factor?
"Some weeks I would tune in and other weeks I would find out what happened, and if any thing sparked my interest, I would watch it on YouTube," admits James.
Article continues below advertisement
OK! NEWS: AMERICAN IDOL ALUM JAMES DURBIN'S GIFT TO CONAN O'BRIEN: A CONAN THE BARBARIAN CARTOON
But what did the rocker honestly think of this Idol competitor? "Um, I think it was... interesting. I didn't like that it went so big at the very beginning. With Idol, the finale was the huge grand spectacle. It seemed like every single week, X Factor was trying to put on this huge grand spectacle," the singer admits. "They had these unneeded, unnecessary, hoochie, skanky backup dancers every single week. It was just campy and ridiculous. It didn't focus on the artist, it didn't focus on the singer."
But was James rooting for anyone?
OK! GALLERY: AMERICAN IDOL FINALISTS PARTY WITH THE JUDGES
"Just two people, Melanie Amaro, who won. She had good reason to win because she deserved it," the rocker says. "And Chris Rene. Chris is an artist. He showed that, he proved that. I think that's what these shows are about, to prove yourself as an artist, to prove what you can do. This is your chance."
The singer definitely is glad he auditioned for American Idol and not X Factor. "Absolutely! I got the chance to ask the producers every single week if I could do this and that. I would bring my ideas to the table. I'm a performer, I love putting on a show," he says. "I was given that opportunity. It's there for the taking. I loved being able to come through the door with a marching band and some f***ed up costume. I got to have fun and expand my imagination. My dreams became my reality."
Which show do you prefer? American Idol or The X Factor?