NEWS
'American Idol' Blog: The Top 4 Results Show!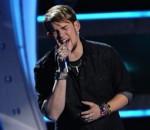 Almost 72 million votes last night. That is the highest top 4 vote ever! Will we get shocking results tonight?
OK! VIDEO: WATCH JAMES DURBIN PERFORM ON AMERICAN IDOL WITH LADY GAGA'S HELP
James and Scotty kick off the group performances with "Start It Bad" followed by Lauren and Haley belting it out on "Gun Powder and Lead." They sound so great together!
And the results begin, who will be pronounced safe first? It's Lauren!! Is this bad news for Haley? Scotty and James have never been in the bottom.
Article continues below advertisement
OK! NEWS: AMERICAN IDOL BLOG — THE TOP 4 PERFORM!
But first more suspense dragged out as Season 6 winner Jordin Sparks is on to perform her new single. Jordin looks amazing singing "I am Woman." Go Jordin. That is followed by a performance by Enrique Iglesias, but this seems pre-taped and not sung live.
Finally results time. This is stressful to watch! What!? Haley is SAFE!? Yes!! She so deserves to be top 3, but James and Scotty have never been at risk before. WOW! Go Haley!
OK! NEWS: JAMES DURBIN ON LADY GAGA'S GROPING — "IT WAS UNEXPECTED AND UNCOMFORABLE"
But who will get the boot? James looks like he is freaking out but Scotty seems so chill up there. Poor James, he got the boot. And he is so upset. I am bummed out. I really wanted a James and Haley finale. Now we need a girl finale!
We now have our Top 3 of Haley, Scotty and Lauren and they get to go home this weekend and have their big homecoming celebrations!
Next week, the idols will sing three songs each. What will they sing? Find out next Wednesday at 8 p.m.!
Written by Rana Meyer