NEWS
'American Idol' Blog: The Top 4 Perform!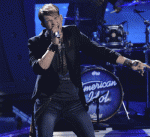 We said goodbye to power voice Jacob Lusk last week. Now we are finally down to our final four. Tonight has two themes: "Songs of Inspiration" and "Songs of Lieber and Stoller."
OK! VIDEO: WATCH AMERICAN IDOL'S JACOB LUSK TALK TO OK! ABOUT BEING VOTED OFF
James - "Don't Stop Believing"- He should have changed it up. He showed off his great vocals but it sounded too karaoke.
Steven - You did it right. You couldn't have picked a more popular song. Nice going.
Article continues below advertisement
Jennifer - It was a really really great job. Great song, great performance.
Randy - I am glad that you are giving them props. That was the highest degree of difficulty and you did it!
Haley - "Earth Song" - Slow start to the song. But she really brings it home at the end with her traditional Haley jazzy style. But the judges are always way too harsh on her. She is by far the dark horse in this competition.
Jennifer - I really felt that it did inspire you. But think more about it when choosing your song.
Randy - The song doesn't fit you. The song needed you to deliver it. I felt like you were screaming it.
Steven - They are both wrong! You nailed it. American heard it, don't believe them!
OK! VIDEO: JENNIFER LOPEZ PRAISES FINAL FOUR IDOLS: "THOSE VOICES ARE OUT OF THIS WORLD!"
Scotty - "Where Were You When The World Stopped Turning" - Typical Scotty, great performance, great stage presence as always. But I wish he would just step out of the box more.
Article continues below advertisement
Randy - That's a great, amazing song. It's the perfect song choice for where we are as a country. You are ready for superstardom.
Steven - I saw you almost lose it in the middle. You keep that up. That was beautiful.
Jennifer - I'm in love with you. What you stand for, what you bring to your music. You know who you are.
Lauren - "I Do It Anyway" - Lauren rocked some powerhouse vocals and really showed why everyone loves her so much. She sounded great.
Steven - You broke my heart. That was the most beautiful thing. You deliver a song like a blue plate special.
Jennifer - That was very good. I am so proud of you. You are listening to what we are telling you. It was a great vocal performance.
Randy - The Lauren that we all grew to love. Lauren is back in it to win it!
OK! NEWS: LADY GAGA LANDS GIG AS NEXT AMERICAN IDOL MENTOR
Haley - "I Who Have Nothing." Amazing performance. Wow, Haley you really put all your emotion into that and really gave it your own. And you got a judges' standing ovation! Haley is in to win it!!
Article continues below advertisement
Jennifer - We will never take it easy on you. Look at what you're capable of. One of the best performances of the year.
Randy - Everyone needs a moment tonight. You probably got mad, but you just had a moment right here. It puts you in it to win it. One of your best vocals ever!
Steven- This was a classic moment with classic Haley. You just Reinharted yourself.
Scotty - "Youngblood." Nice ending Scotty. But not feeling this. It was a little too goofy and all over the place. But I think you will still have tons of votes.
Randy - You were having such a good time. I think we just saw both sides of a Scotty concert. I think he's ready.
Steven - It was funny, it was good. I love the humor.
Jennifer - It seems like you really hit your stride. Now it's like the stride to the finish line. I want to see something that brings a whole different side of you.
Lauren - "Trouble." Lauren is really giving it her all. Lots of energy and really working that stage. Really fun to watch, but trying just a bit too hard.
Article continues below advertisement
Steven - Well done. I just love you. You know that.
Jennifer - It was mature, total attack. And it was really, really good. Some serious good performance there.
Randy - You've got this rocker thing with a little attitude. I really enjoyed it.
OK!'S AMERICAN IDOL BLOG: TOP 5 RESULTS SHOW!
James - "Love Potion No. 9" - Really rocking it out in his rendition. Singing his all throughout the audience and great stage effects. James really wants it and he has the performance style to go all the way.
Jennifer - That showed me that you can sing anything. It was really really great.
Randy - You are now what I love about sports. You are peaking at the right time. You are having a moment every single week.
Steven - Incredible. What you can't do with your voice, you did tonight. Beautiful thing.
This is going to be a tough week. The judges seem to want Haley to go home to save their favorites of Scotty, James and Lauren. But I think James or Lauren could be in trouble. I say Lauren and Haley will be the bottom 2 with Lauren going home.
We will find out tonight at 8 p.m.!
Written by Rana Meyer