NEWS
'American Idol' Contestants From Colton Dixon to Phillip Phillips React to Disqualified Jermaine Jones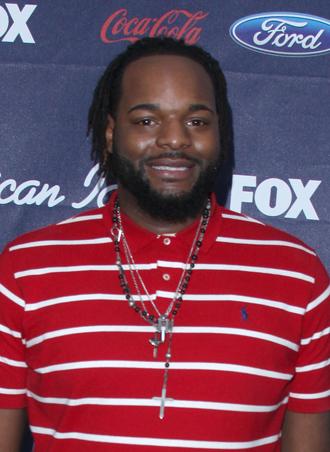 One of the most shocking moments in American Idol history happened last night when Jermaine Jones was disqualified for hiding his criminal history.
Yes, it wasn't the first time a contestant was disqualified. Remember Corey Clark? But the more shocking part was that they aired the confrontation between Jermaine and Idol execs Nigel Lythgoe and Ken Warwick.
After all the performing was done for the night, the rest of the Top 11 contestants weighed in on what they thought about Jermaine's disqualification to Access Hollywood.
Article continues below advertisement
OK! NEWS: AMERICAN IDOL RECAP: JERMAINE JONES DISQUALIFIED AND JENNIFER LOPEZ RAVES ABOUT JOSHUA LEDET
Surprisingly, the contestants found out why Jermaine was being disqualifed just as America did.
"We had a quick meeting but they didn't tell us why he was disqualified. This was the first time we found out the real reason why and we were pretty shocked," Heejun Han admitted. "We didn't know any of the details at all. And we love him to death, so that was sad," Elise Testone added. "I'm still tripping over that," Deandrea Brackensick said.
After Jermaine was given the news that he had to leave the show, all the contestants decided to just let him be. But that was not an easy decision.
Jessica Sanchez revealed, "We let him do his own thing. We didn't want to bother him. He's going through a rough time." Shannon Magrane added, "We all decided to let him have his room to breathe. We never got a chance to say goodbye which was really upsetting. We were so in shock. It is crazy to know that one of our top 13 Idol family has left like that."
Article continues below advertisement
But the most controversial part of the entire disqualification was that Idol aired it. Did the contestants think that they should have done that?
OK! GALLERY: AMERICAN IDOL FINAL 13 PARTY WITH JENNIFER LOPEZ, STEVEN TYLER, RANDY JACKSON & RYAN SEACREST
Colton Dixon said, "When I first saw what was going on backstage, we all thought 'Oh no.' Jermaine is such a great guy and I really wanted everyone to know that. They handled it so well and he handled it so well. He has a past. Everyone does. But he handled himself so professionally and I am proud of him." Adds Deandre,
"It's better to have people know why then just guessing. People make up stuff alot, so I think they did correctly."
And Phillip Phillips also thinks that America deserved to see it. "America deserves to see what happened. A lot of people voted for him. People would be curious. I think they handled it in a great way and Jermaine handled it really well."
Well, what do you think? Should Idol have aired the Jermaine confrontation or kept that private?