NEWS
'American Idol' Recap: Jermaine Jones Disqualified and Jennifer Lopez Raves About Joshua Ledet!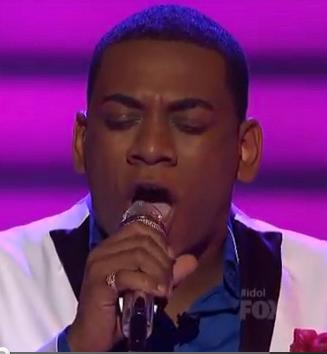 Ryan Seacrest kicked off the drama right away on American Idol last night by revealing that they were dealing with law enforcement and they had to eliminate a contestant. But then left the audience hanging until 90 minutes later when it was revealed that it was Jermaine Jones (even though Internet fans already knew this). What followed was then the most awkward moment we have ever encountered on Idol!
Article continues below advertisement
OK! NEWS: AMERICAN IDOL RECAP TOP 13 PERFORM AND JESSICA SANCHEZ, SKYLAR LAINE AND HOLLIE CAVANAGH SHINE
The night before, Jermaine was called in to meet with producers Nigel Lythgoe and Ken Warwick and told that since he had outstanding warrents against him under fakes names, he couldn't continue on with the show. We know Idol loves their drama. But this was overboard. And then to show Jermaine walk out to video of him rehearsing his song for the week, "Somewhere Out There," which makes you wonder. Was this all planned for the drama element? Did they know this when they brought him back? We will probably never know. Maybe they should have just brought back Johnny Keyser instead.
Well we have 11 contestants left, let's move on to the music. The theme was "Songs from the Year You Were Born" and sadly, the song choices were bad. They picked more from songs that were remade that year. Not new songs. Let's see how they did.
Phillip Phillips, "Hard to Handle": One of the first bad song choices. There were so many better options, but even after just having kidney surgery. Phillip pulled it out and really did his thing on the song. He has a gift of making these songs his own.
Article continues below advertisement
Heejun Han, "Right Here Waiting": Would not have expected Heeju to pick a Richard Marx song. But that is exactly what he did. And although we love Heejun and we love his personality, this song just did not show off his voice. And he could be in trouble tonight.
Elise Testone, "Let's Stay Together": A complete remake in 1983. Elise, you should have picked better. But we will give you this: You were much better this week. Still nothing amazing, but improved. We still think she could hit the bottom three, though.
Article continues below advertisement
Deandre Brackensick, "Endless Love": Not easy to take on a Mariah Carey song and Deandre can hit those high notes, but it was just nothing special. We preferred his reggae number last week. Deandre may hit the bottom three.
Shannon Magrane, "One Sweet Day": Yes, Shannon, this was a definitely improvement over last week. And you did fine singing a tough Mariah song. It was just all right. And you needed more than this to gain some momentum. This may be the end of the road for Shannon.
Article continues below advertisement
Erika Van Pelt, "Heaven": Not sure that this Bryan Adams song was the right choice for Erika. She has a great voice and her raspiness definitely was shown off in this song, but we need to see her range more.
Skylar Laine, "Love Sneaking Up On You": The mentors, Jimmy Iovine and will.i.am, tried to steer Skylar away from doing a country song, but she stuck to her guns and sounded great like she always does. But eventually, she is going to have to step away from country and show off her versatility if she wants to get to the finale.
Joshua Ledet, "When A Man Loves a Woman": Another remake song choice. But who cares!? Joshua blew the roof off of that place. Wow. This boy can sing and he finally showed what he can really do. He can sinnnggg. And Jennifer Lopez even called it, "the best performance ever on American Idol." We don't know about that, but it was pretty great.
Hollie Cavanagh, "Power of Love." They definitely saved the best girl for last! Celine Dion is another artist that is tough to take on. But boy, does Hollie have a powerful voice! She could win this thing if she keeps this up.
Our picks for the bottom 3: Deandre, Elise, Shannon. Our pick to go: Shannon.
Who do you think will go? Or do you think no one will leave since Jeremy already left this week? Remember, if they survive this week, they make the American Idol summer tour.
Find out tonight at 8 p.m. ET on FOX.