NEWS
'American Idol' Recap: 2012 Top 12 Girls Perform & Hollie Cavanagh & Jessica Sanchez Stand Out!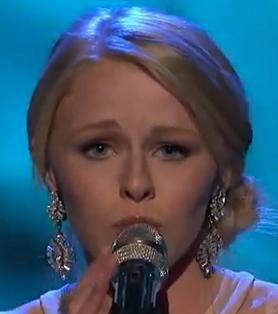 First the boys had their turn on the American Idol stage, now it was time for the top 12 girls to take their turn. Would they upstage the boys? That didn't exactly happen. While some of the girls were good, we felt that some of the ones who stood out in the auditions, let their nerves get the best of them. Let's see how each of them did:
Chelsea Sorrell, "Cowboy Casanova": Chelsea kicks things off showing us her great country voice, but it is always hard to go first. Plus, not so smart to pick a song that Carrie Underwood does so well. It didn't really show off her voice as well as another country tune could have. But if she gets through, she could very successful.
Article continues below advertisement
Erika Van Pelt, "What About Love": Erika was definitely one that stood out to us at her audition. She has such a unique tone to her voice, and she sounded good. But is that enough? We just don't think she showed off enough power to really be remembered.
Jen Hirsch, "One and Only": Adele is definitely a popular choice this year, and Jen is just one of the two who will sing this same song tonight. She has been blowing us away throughout Hollywood and Las Vegas, but tonight, eh. She sounded great, but didn't blow the roof off like she has in the past.
OK! NEWS: AMERICAN IDOL RECAP 2012 TOP 12 GUYS PERFORM AND JERMAINE JONES RETURNS MAKING IT A TOP 13
Brielle Von Hugel, "Sitting on the Dock of the Bay": There is just something about Brielle that rubs us the wrong way. She sounded good and showed off some stage prescence, but her ego seems to shine through just a bit too much. That may turn off some people.
Hallie Day, "Feeling Good": Now Idol is trying to confuse us this year with a Hayley, Hollie and Hallie. Hallie is the first one of them up tonight and this was definitely a different take than Adam Lambert did on the song in season 8. And it was good, and she really was able to show off her vocal prowess and what she is capable of. Hallie should do well if America votes her in.
Article continues below advertisement
Skylar Laine, "Stay With Me": Skylar is our second country girl this year and she does remind us of Lauren Alaina, but will America vote in two country girls? She is fun to watch, but Skylar needs to show more stage presence if she makes it through.
Baylie Brown, "Amazed": Oh poor poor Baylie. We enjoyed watching her throughout the auditions. But, she let her nerves take over, and oh boy, this was just bad. We would even say trainwreck. Will the judges save her with a wildcard spot? We are not so sure.
Hollie Cavanagh, "Reflection": The night was going along and no one was blowing us away and then came, Hollie. Wow, she really has the pipes. And there is no doubt that everyone in American took notice. Hollie is one to watch and she is going to go far in this competition.
Haley Johnsen, "Sweet Dreams": Taking on an Annie Lennox song is no easy feat, and this was just all over the place. She just lost her spot and couldn't gain any ground again and it just continued to spiral out of control. Haley will be in trouble tonight.
Article continues below advertisement
OK! NEWS: AMERICAN IDOL RECAP: THE 2012 TOP 24 LIST REVEALED!
Shannon Magrane, "Go Light Your World": We still don't understand how this girl is possible only 16. She seems way beyond her years and her voice really goes along with that. But this song wasn't as known as the others, and seemed a bit too much like a beauty pageant performance. If she makes it, she needs to be more like her age.
Jessica Sanchez, "Love You I Do": Best performance of the night! WOW. This girl has an amazing voice and was sick, too! And to take on a song Jennifer Hudson made famous and sound just as great as her. And the way she moved around that stage like she owned it. Jessica is here to stay!
Elise Testone, "One and Only": It's kind of shocking that the execs were okay with Elise and Jen singing the same song and why they would want to. But we've got to say, Elise did it better, especially with her take of starting out on the piano. Elise really impressed us and we think she will snag a spot in the top 5 tonight.
Our picks for the 5 spots to go through: Hollie, Chelsea, Shannon, Jessica and Elise, with Jen snagging the wildcard spot. Who do you think will make it into the Top 12? Find out tonight at 8 p.m. ET on FOX.