NEWS
'American Idol' Recap: Elise Testone, Phillip Phillips & More Get Standing Ovations From Judges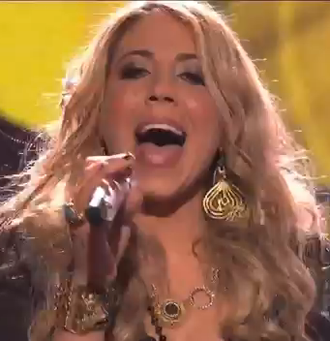 Last night's episode of American Idol had the contestants singing songs by their own idols. Who would the contestants pick and would it be the right choice? With mentoring help with Jimmy Iovine and Stevie Nicks, they all rocked it. But did the five of the nine singers really deserve standing ovations from judges Jennifer Lopez, Randy Jackson and Steven Tyler?
Colton Dixon kicked off the show with Lifehouse's "Everything." The one thing we love about Colton is the emotion and authenticity that he brings to every performance. This song was no different. He was a little pitchy at times, but he really made you feel the song. Our only concern is him talking about his religion too much. It could turn off some voters.
Article continues below advertisement
Heejun Han was looking to be in trouble after ridiculous performance last week, but it was time to be serious. Heejun did just that with Donny Hathaway's "A Song For You." He was sincere and showed off the real tender side of his voice. But will that be enough to save him? It didn't really compare to Elliott Yamin's version. Still, he did receive the first standing ovation of the night... but will that really help him that much?
Article continues below advertisement
Hollie Cavanagh sang her heart out on Carrie Underwood's "Jesus, Take The Wheel" and this girl does have an incredible voice. But she needs to step it up and move away from the ballads. She proved on the Madonna medley that she can sing uptempo, she needs to do more of that!
DeAndre Brackensick weirdly chose Eric Benet's "Sometimes I Cry." We can't imagine that Eric is really DeAndre's music icon, in fact, it was obvious he chose the song for the chance to show off more of his falsetto. Yes, it's a talent, but it was just too much and way too high. It just doesn't work week after week. And with DeAndre following the camera as it spinned around, it was all just weird. We don't get why the judges got on their feet for that one. It may be time for him to pack his bags.
Jessica Sanchez did a slowed-down version of Beyoncé's "Sweet Dreams" amid a sea of red doors. What is up with the crazy set design this year? We don't care about that stuff. Just let them sing! And sing Jessica did, but just like Hollie, we want to see more than just slowed-down songs. We know Jessica has an amazing voice, we just want to see more upbeat tunes and more personality, so she doesn't get booted off early like last season's Pia Toscano.
Article continues below advertisement
OK! NEWS: AMERICAN IDOL RECAP: ERIKA VAN PELT ELIMINATED FROM 2012 TOP 10
Phillip Phillips continues to show off his unique style! He did it again with his take on Jonny Lang's "Still Rainin'." You can tell that this wasn't the first time he was singing this song and his charm just shines through, earning him a standing ovation as well.
Joshua Ledet did his take on Harry Nilsson's "Without You," though he really modeled it after Mariah Carey's version. Joshua is wonderful and can really belt, but something just didn't register with this one. But we do appreciate how emotional he gets when really belting out those notes.
Elise Testone has never really been at the top of anyone's list amongst the other singers. But boy did she change that now. She sang Led Zeppelin's "Whole Lotta Love" and though everyone always thinks of Adam Lambert's version in season 8, Elise blew that away! She rocked that stage like she belonged there and was by far, the best of the night, getting a standing ovation for herself as well.
Who was your favorite? Who do you think is going home? Find out tonight at 8 p.m. ET on FOX.