NEWS
'American Idol' Recap: Erika Van Pelt Eliminated From the 2012 Top 10!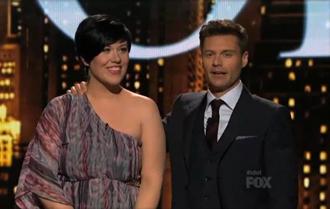 It was a surprising night on American Idol last night, as arguably one of the best singers in the competition was eliminated.
"Last week, the goal was to make the summer tour," host Ryan Seacrest announced at the start of the results. "This week, if they survive elimination, the prize? Moving into the big mansion."
So as the top 10 contestants waited to hear their fate, and the sometimes harsh comments made by Jimmy Iovine in the recap of their performances, the judges Randy Jackson, Jennifer Lopez and birthday boy Steven Tyler anxiously looked on.
Article continues below advertisement
OK! NEWS: AMERICAN IDOL RECAP: COLTON DIXON WOWS THE CROWD WITH HIS RENDITION OF BILLY JOEL'S 'PIANO MAN"
First, Ryan brought up Hollie Cavanagh, Skylar Laine and Elise Testone, who has been in the bottom three for two weeks in a row. After sending Hollie and Skylar back to the couches, Ryan teased Elise before letting her know that she was safe too, which obviously made her day!
After the commercial break, Indie Pop sensation Lana Del Ray performed her hit song "Video Games," before Ryan jumped back into the results, calling up Jessica Sanchez, Joshua Ledet and DeAndre Brackensick. Jessica and Joshua, the two powerhouses in the competition, were safe, as DeAndre was the first contestant to land in the bottom three.
After one of 2011's favorite American Idol alums, Haley Reinhart performed her new song "Free," Ryan shared the final results with Phillip Phillips, Heejun Han, Erika Van Pelt and Colton Dixon. Of course, Colton was safe after his stirring rendition of "Piano Man," as Erika was sent to bottom three stools. So best buds Heejun and Phillip clung to each other as they waited to find out who was the final contestant in the bottom three, which turned out to be Heejun.