NEWS
'American Idol' Recap: Colton Dixon Wows the Crowd With His Cover of Billy Joel's 'Piano Man'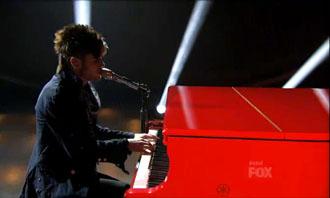 The top 10 contestants tackled Billy Joel songs on American Idol last night! Some rocked their renditions of his classics, while others failed to impress the judges — and America.
As usual, Phillip Phillips was one of the best, as were Jessica Sanchez, Joshua Ledet and Elise Testone. But the real standout was Colton Dixon, who might have given even Billy himself a run for his money with with his take on "Piano Man."
Article continues below advertisement
OK! NEWS: AMERICAN IDOL RECAP: THE 2012 TOP 10 ARE REVEALED & SHANNON MAGRANE IS ELIMINATED!
DeAndre Brackensick, "Only The Good Die Young": DeAndre had fun on stage this week, but after watching the other performers, he didn't do as well as we thought. Jennifer Lopez said he did "a good job" and "showcased" his voice. Will he make the cut? We're thinking bottom three.
Erika Van Pelt, "New York State of Mind": Erika came out rocking a new dark, cropped 'do, and we loved it! She really did a great job with the song and proved that she's someone to watch. Steven Tyler called her performance "outstanding," and we agree!
Joshua Ledet, "She's Got a Way": Joshua turned a Billy Joel tune into a gospel song, which we appreciate, considering that's his niche. The judges weren't blown away by him this week, but Randy Jackson reassured him that "he's always ahead" and "should never feel defeated." We're pretty sure Joshua will be safe this week.
Skylar Laine, "Shameless": Although she hit the high notes perfectly, Skylar struggled with her pitch in the beginning of the song, which might come back to bite her. But honestly, she's still one of our favorites, and we have a feeling America feels the same way!
Article continues below advertisement
Elise Testone, "Vienna": Elise wowed the judges this week and truly shined. She left everything on that stage and showcased her voice perfectly. Plus, we got to see a bit more of her personality! Steven called her "beautiful" and really felt she "put her heart into it."
Phillip Phillips, "Movin' Out (Anthony's Song)": Phillip is the one to beat. Not only is he a total heartthrob, but he is true to himself and his music. He took Billy's song and made it his own. "You are an unbelievably talented artist. That was one of the best renditions of that song ever," Randy gushed.
Article continues below advertisement
Heejun Han, "My Life": Heejun is one of the biggest personalities in the group, but his performance last night was campy and unprofessional. This is a competition, not a karaoke contest! Even Steven wasn't impressed, saying, "At some point, you got to try and take this more serious." We think he might be in danger tonight. Sorry, Phillip!
Jessica Sanchez, "Everybody Has a Dream": Jessica is back! We couldn't help but think of Beyoncé and Jennifer Hudson in Dreamgirls as we watched her performance. The judges were floored and gave her a standing ovation — as did we in our living rooms. She's definitely safe this week!
Colton Dixon, "Piano Man": Not only did Colton wow over the judges and the audience, but this week's mentor, Diddy, told him he would buy a copy of his version of Billy's iconic song. Colton felt every word he sang and proved to us that this just might be his year!
Who were your favorites of the night? And who do you think will land in the bottom three? Share your thoughts!