NEWS
'American Idol': What Wasn't on TV for Siobhan's Elimination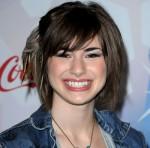 After performing her own country-rock rendition of "Any Man of Mine," it was time for Siobhan Magnus to say goodbye to her dreams of becoming the next American Idol. But the one man that was most disappointed about her elimination was fellow Idol, Lee Dewyze.
OK! INTERVIEW: IDOL CASTOFF TIM URBAN
Michael Lynche, Casey James, and Siobhan were the bottom three of the week – and one had to go. After Lee took a seat on the couch, he immediately threw his head in between his legs in disappointment. The quirky tattooed glassblower looked to be maintain her composure.
Article continues below advertisement
"Lee watched Siobhan across the stage as he looked quite nervous," an eyewitness tell OK! "He sat on the edge of the couch, and Crystal Bowersox rubbed his back to comfort him."
OK! NEWS: 2010 AMERICAN IDOL LIVE! TOUR DATES ANNOUNCED
When Big Mike dodged his second bullet of the season as he was announced to be "safe" for the week, his wife stood up as she jumped up and down in her seat. But when Ryan Seacrest called Siobhan as the person who goes home, Lee was immediately torn. Crystal was shocked, and the other Idols were sad to see her go.
After she was eliminated, the eyewitness says, "Lee immediately wanted to go up to her, but was told signaled he couldn't go just yet. He walked back to the Idols as both Crystal, and Aaron Kelly patted his back."
CLICK HERE FOR ALL OF OK!'S AMERICAN IDOL NEWS!
After the 19-year-old belted out her final song – Aretha Franklin's "Freedom" – she walked over to her family sitting in the audience, and couple of them teared up, and the tears rolled down their cheeks as they hugged the fallen Idol. Even though Simon Cowell had made the cruel comparison of her last note to someone "giving birth," they managed hugged it out.
Article continues below advertisement
Right as the show was about to go off-air, the Idols placed themselves around Siobhan. Crystal and Mike gave her a hug, and had some words together. Kara DioGuardi was the only judge to go up on stage to give her a long hug, and had a few minute conversation.
OK! BLOG: ANOOP DESAI'S IDOL DISH
"But she immediately wrapped her arms around Lee," the eyewitness goes on. "They wouldn't let go of each other. She might have teared up in their embrace. It was touching."
Siobhan was given the boot on a night filled with performances from Shakira, Rascal Flatts, and Lady Antebellum. Harry Connick Jr. will mentor the remaining five Idols next week that will lead the finalists through the catalogue of Frank Sinatra, and Lady Gaga will be a guest performer.