NEWS
'American Idol' Winner Kris Allen Announces Release Date for Sophomore Album and Reveals Cover!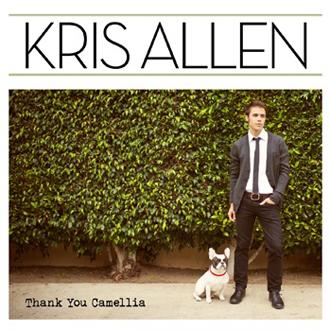 American Idol winner Kris Allen has finally revealed details about his long-awaited sophomore album, the follow-up to his self-titled debut.
After rushing out the first record, this time around, Kris wanted to take his time — and that he did, co-writing every song on the new album, Thank You Camellia.
OK! NEWS: KRIS ALLEN TALKS TO OK! ABOUT MUSIC EMPOWERS, NEW MUSIC AND MORE!
The singer told OK!, "Hopefully, every album is a progression. I definitely want to push myself, whether it be musical, vocally, lyrically. I have been trying to."
Article continues below advertisement
Kris' first single from Thank You Camellia is "The Vision of Love," and it hits iTunes earlier this week and has already received a strong radio response. The song was co-written with Kris by Nasri and Adam Messinger, who have also worked with Chris Brown and Justin Bieber.
Kris' last album spawned the platinum hit "Live Like We're Dying" and "The Vision of Love" is already the "most added" song on Hot AC radio stations.
You can catch Kris performing live next in Napa, Calif., at the Live in the Vineyard festival along with Jason Mraz, Mat Kearney and more!
OK! NEWS: KRIS ALLEN SAYS AMERICAN IDOL THEME SONG STILL MAKES HIM NERVOUS
We are loving Kris and his dog, Zorro, on the album cover. So cute! We are just dying to know what the name of the album means.
Thank You Camellia is available for pre-sale at Kris' official store and will be available everywhere on May 22. You can even get it on vinyl!