NEWS
'American Idol' Winners' Best Performances from Kelly Clarkson to Scotty McCreery!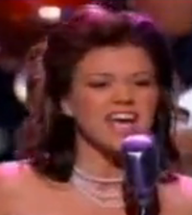 American Idol is back tonight for its 11th season! Can you believe it has been 10 seasons already? Before the new season kicks off with another round of wacky singers, amazing voices and plenty of drama, let's take a look back at best performances from each of the 10 winners.
OK! NEWS: AMERICAN IDOL WINNER KELLY CLARKSON SET TO MENTOR CONTESTANTS ON THE VOICE
Season One:
American Idol premiered in the summer of 2002, and for most of the season, it was all about curly haired Justin Guarini, but then out of nowhere on "Big Band Night," a powerful voice from Kelly Clarkson blew us away with "Stuff Like That There," and from that moment, Kelly skyrocketed with the votes and knocked out Justin to take the crown.
Article continues below advertisement
Season Two:
Ruben Studdard and Clay Aiken had a tight race throughout the whole season, and many thought Clay should have taken it, but no one can forget Ruben's performance of "Superstar" during the semifinals, which solidifying his placement in the competition. Sadly, the Velvet Teddybear hasn't taken off as many had hoped he would.
Season Three:
Once Fantasia Barrino took the stage and belted out her version of "Summertime," it was pretty much a slam dunk, and this is a performance that Randy Jackson still can't stop talking about. No one had a chance of catching up with this emotional vocalist, no matter how hard Diana DeGarmo tried.
OK! NEWS: AMERICAN IDOL CONTESTANTS CHAT BEFORE SCOTTY MCCREERY'S BIG WIN
Season Four:
Country music finally took center stage with the fierce competition between Bo Bice and Carrie Underwood. But when Carrie decided to put her spin on Heart's "Alone," she knocked it out of the park. Carrie was not just a country girl! And she would soon become the most successful singer in American Idol history and storm the Nashville world! But luckily, she has put down the can of hairspray.
Article continues below advertisement
Season Five:
This season brought on the rocker, so no one ever expected the shocking early exit of Chris Daughtry, but with Chris gone, Taylor Hicks and his Soul Patrol was able to knock out Katharine McPhee. The fans loved his stage dramatics, but when he toned it down a bit and got serious, that was when he really soared. His performance of "In the Ghetto" was no exception.
Season Six:
It came down to a beat-boxer and a teen vocalist, but Jordin Sparks left Blake Lewis in the dust after her performance of "I Who Have Nothing," which really showed off the power in her voice and what she was truly capable of.
OK! NEWS: KRIS ALLEN SAYS IDOL THEME SONG STILL MAKES HIM NERVOUS
Season Seven:
David Cook stole the prize away from early favorite David Archuleta with his masterful way of changing up a song. He wasn't getting much attention until he walked out on that stage and did his own take on Chris Cornell's version of "Billie Jean" and didn't stop there. But this was one performance that no one will ever forget.
Article continues below advertisement
Season Eight:
Everyone thought Danny Gokey and Adam Lambert would be the final two contestants, especially the judges, but then week after week, a guitar-toting guy from Arkansas kept putting his own spin on the songs and sucked in the voters. It was his performance of Kanye West's "Heartless" that really sealed the deal and soared Kris Allen into the winning circle.
Season Nine:
This was definitely a more subdued cast, and Lee DeWyze captured viewers' votes with his raspy guitar-strumming rock, but one performance of his that stands out was "Treat Her Like a Lady" for showing off that energy that we all knew was hiding behind that goatee.
Season 10:
Last year on Idol was the year of the country teens. Lauren Alaina and Scotty McCreery knocked out everyone else and left Nashville dust in their path. But try as Lauren might, no one could stop Scotty and his deep country vocals, especially with his fabulous rendition of "Gone," which he would soon repeat in the finale.
Do you agree with our picks? What type of artist do you think will steal our hearts on the new season of Idol? Don't miss the premiere of American Idol tonight at 8 p.m. ET on Fox!