NEWS
'American Idol' Contestants Chat Before Scotty's Big Win!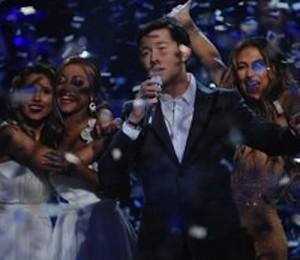 Article continues below advertisement
Before the confetti came streaming down, Paul McDonald told OK! his thoughts on Scotty: "He's like the Justin Bieber of country music." Going into last night Paul thought it could be anyone's game. "They both sounded like pros last night. It's amazing what a few months can do. I thought Lauren was unbelievable....It comes down to voters. Girls love Scotty McCreery. They are both going to do great. The country music fans are going to buy all their albums."
OK! NEWS: ON THE SCENE AT AMERICAN IDOL FINAL PERFORMANCE SHOW — SCOTTY VS. LAUREN!
Paul wasn't the only former contestant who thought it could go either way. James Durbin said he had an idea of who he thought was going to win but after Tuesday night, it all changed. He told reporters, "It could go either way. It really could."
He gave props to Scotty and Lauren for staying level headed throughout the competition. "They both are grounded. They both have their heads on their shoulders." He added, "They both know who they are. You will not find anywhere as level headed a 16 year-old girl and a 17 year-old boy. That is amazing. That's why they are the top 2. That's why they deserve it."
Article continues below advertisement
OK! NEWS: FORMER AMERICAN IDOL CONTESTANTS MAKE FINALE PREDICTIONS
Although she ended up in the top 3 and didn't quite make it to the finals, Haley Reinhart sounds like her Idol experience with the judges' criticism taught her to be tough. She told reporters, "This is an emotional rollercoaster. I really learned to stay strong, speak when I need to and hold my tongue when I should. I will take this in stride and take this harsh criticism with me and become stronger because of it."
So, how did Scotty and Lauren feel going into last night? "I did everything I could do last night. Left it all on the stage and let's see what America thought," he told reporters. Lauren wasn't clear on whether or not she thought she was going to win but was clear on her passion for performing. She noted, "I think that unexpected things happen a lot. Either way, Scotty is amazing. And this is what I love to do."
Were you surprised when Scotty won or were you pulling for Lauren? Share your thoughts below!
Reporting by Rana Meyer