NEWS
American Idol's Casey Abrams Sits Down With OK!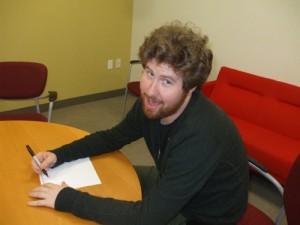 Latest American Idol cast-off Casey Abrams wooed the ladies with his generous kisses, stand up-bass and growling antics, and was beloved so much by the judges he was granted the coveted save of the competition. This talented cutie sailed to the Top 6, but sadly was forced to say goodbye to his Idol family. Lucky for OK!, the 20-year-old crooner from Illinois stopped by our NYC offices to chat about all those Haley Reinhart dating rumors and what's next!
Article continues below advertisement
Can you tell me a little about your Idol experience?
There's some things I expected that came true, there's things that exceeded the limit. Like, I thought maybe I'd be in a commercial or two, but then I was seen all over. I didn't expect to get so much exposure and I think that was really cool. The journey was... it felt like a movie. I feel like you could put what I had done into a movie. Not that I'm that interesting, it's just the fact that there was such a roller coaster of emotion and physical pain and just staying awake.
You did have physical pain?
Yeah, of course! Hauling that bass around takes a lot of work, man.
And it's cool you get to have a record of it forever!
Right. And there's some things they did leave out but I'll remember it forever.
There are only two girls left in the competition, do you think a girl could ever win Idol?
Never. No! I think this year it looks pretty good for the girls, that's all I'll say.
Article continues below advertisement
You don't have a favorite out of the two?
All I'm going to say is who have I been hanging out with? That's all I'm going to say. Yeah, I'm just saying I'm hanging out with one more.
Do you think any aspect of your final performance hurt you at all to choose to go that way?
The "Hidy Ho" one? Um, yeah. It hurt me. For the voters, I don't know about the people at home, like some of the musicians up there kind of appreciate it. The thing is, I don't think I completely put my heart and soul into that performance. It's a very Chicago-type blues, and I really like that kind of thing, but I think some people draw the line there. Maybe they like jazz but that stuff is just too hard. Maybe I was growling too much.
Is there a reason that you didn't maybe put your all into it?
I just felt so good about the Haley/Casey performance. But I really tried with that one and it felt awesome. Maybe if that was after my solo performance I would have felt a little better cause I just felt like, "Oh that performance was so awesome, how am I going to beat that?" So I just said, don't try. I don't know.
Article continues below advertisement
And you mentioned the growling, Jimmy Iovine mentioned the growling, he made a comment about the family dog.
I think he was right. I think there's a little too much and when I don't pay attention it happens.
So it's not anything you choose it just comes out naturally?
Yeah.
And you were granted the safety vote, did that put extra pressure on you?
Extra pressure. It was like pizza with a side of pressure. It was just too much. I just kept thinking about it. I felt guilty. I felt I needed to do more. I stayed up late and practiced more, I felt like I had to. So yeah, complete pressure.
Do you feel like it impacted every performance after?
Yes. Because I tried really hard, like extremely hard after that save. You know, the 'Your Song' I wanted to make it completely different than any other performance, then CCR I tried with the bass, then I tried a jazz song, then I tried kissing Jennifer Lopez. I really tried harder than any other performance.
Article continues below advertisement
If you could choose any Idol judge to produce your next album, who would you choose?
Probably Ellen DeGeneres. I think.
From your season?
Ohhhh! Okay, well Randy's Jackson is a producer, so that's the obvious choice. And he did ask me. Well, he didn't ask me. We talked about it. We said, "Hey you know, maybe records in the future."
I know you just got out of the house, but have you watched The Voice at all? The rival show?
No comment. I don't want to insult anyone.
Do you have an opinion about the format of that show?
I watched the first 20 minutes of it and then I had to go, so I'm not gonna judge it based off that.
What do you have to say about the rumors that you and Haley were involved. Were you ever dating Haley?
I wasn't.
How did it feel when Steven Tyler kind of called you out on your chemistry?
Well, it's a question that's going be asked when you're singing about love and looking into each other's eyes. So, like, of course. That happens in movies all the time ,you know, like… there's no good examples I'm sorry.
Article continues below advertisement
They're reality shows! It's happened in your season with Stefano Langone and Pia Toscano.
Yeah, I heard those rumors. I heard those.
Why didn't you tell Steven that you weren't dating on the show?
I thought it was obvious that we weren't. I saw it in magazines and I was like, "Oh rumors, rumors. Whatever, people." Then I realized it was getting out of hand when one of my best friends said, "I'm pissed, why didn't you tell me this?" I'm like, "Why are you believing this stuff?"
Would you ever date Haley?
Would I? I don't know. No. I never would. Ever. The thing is that we're such close friends, so it would probably ruin the friendship. But I only know her in the Idol world, so who knows? Maybe I could date Lauren Alaina in like five years. That's why I don't want to say no or yes. Maybe I'll be dating Pia? Maybe she'll call me up tomorrow and want to date me.
Haley created controversy when Jimmy Iovine said she didn't know what kind of artist she wanted to be.
Article continues below advertisement
Which I thought was BS.
Do you think she knows what kind of artist she is?
I know that she knows and I know. I know who she is. It's just that she can do different genres. And I don't think the judges saw that.
Are you single?
Yes.
What are you looking for in a girl?
She has to, let's see. She has to have two ears, a couple of teeth, some hair, an arm or two? One of those.
Just one? Maybe one.
Yeah, well... nah, you don't even need arms. That's all I'm looking for. I'm looking for someone who's funny. Doesn't have to have the same views as me. I don't know.
You've kissed a lot of people on American Idol.
Right? I think I've set a record. Like out of all the seasons.
You just went down the line!
I think like seven or eight people or so.
Where did that confidence come from, especially to kiss Jennifer Lopez?
Article continues below advertisement
It came from this "I don't care"-ness. I don't know. It came from the fact that you should always do something different. You should always turn heads, you know? Lady Gaga always does that and Bruno Mars kind of does that. You know, just like do random things.
How did it feel when she J.Lo called you sexy?
Horrible. No. How do you think? First, I was like, "You are crazy for saying that. I'm not." Like… it's just weird that out of Stefano and Paul McDonald and James Durbin and all those people, I was called the sexy one. That baffles me and I think it's kind of wrong.
Who would you name the sexiest?
Stefano, don't you think? I'd say it's a toss up between Stefano and Paul. I think people like the ruggedness of Paul and the fact that he, like the fart jokes... he just doesn't care. Stefano and Paul are opposites though, but they're probably equally as sexy. Like, Stefano looks in the mirror and combs his hair and makes sure his shirt's perfect, whereas Paul gets out of bed and walks to the studio, you know?
Article continues below advertisement
Are you excited for the tour?
Yes!
What would you like to sing on the tour?
I think "Moanin' " would be fun with Haley again. And maybe a song I haven't sang on the show just to break up the monotony. I've been using that word a lot today.
If there were a contemporary artist you could collaborate with, who would It be?
I think it would be weird to collaborate with Ke$ha. I think something along those lines. I'd like to collaborate with Esperanza Spalding, Jack Black and some jazz musicians that are very obscure.
Who's the coolest person you've met throughout the Idol experience that you thought you'd never get to meet?
Rob Renner was pretty tight. I'm trying to think who made an impact, celebrity-wise. It's funny, the day I got voted off I met Crystal Bowersox and I loved her. She was really nice. While I was in the middle of a press conference she came outside and waited for me to be done to give me a present. And so, she waited and met my parents, which was really nice. It just showed me that you can be nice and you can get success from the show. You know, people like Constantine Maroulis coming over and Lee DeWyze, they all had inspiring things to say.
Article continues below advertisement
Did one Idol in particular give you really good advice?
They all basically just said: keep doing what you're doing — keep singing. I hate to say it, but all the advice is always the same, just in different words. But it depends on how encouraging the person is. You can say, "Hey, never give up on your dreams." But it just really depends on the person and how you say it. I got that from Crystal and Lee and David Cook.
Have you thought about your post-Idol plans -- what you would want to make in a record?
Yeah, it's between rock and jazz and everything in between.
Do you have an Idol that you have been influenced by the most?
Adam Lambert is the reason why I wanted to do the show, after hearing his "Ring of Fire" performance, because it was just so different. Crystal inspired me ,so has David Cook, so has Fantasia Barrino. Like, you can have this really weird and crazy voice. And Chris Daughtry. I placed six and he was fourth, so there can be some success there even though I wasn't the winner.
Article continues below advertisement
I feel like your season everyone brings something to the table. You're all unique.
It's kind of like Star Trek: The Next Generation. You know like, last year was Star Trek and then this year you know you have the big, buff dude, you have the… I don't know what I'm saying.
Who would you say you were closest with out of all the Idols?
Who do you think?
Haley?
Yeah. That started around Top 13. I lost a lot of friends around the Top 24, like Tim Halperin and Lauren Turner. I was really close with them, so when they got cut it was kind of depressing. They called me up and said, "We feel sorry for you cause we're not there!" I was like, "You're right guys. Where are you guys? Please come back!" So then I really got to liking Haley and she was there and I remember the first day in the mansion we just started playing some blues. We did "Summertime." I played bass she sang and that's where it started.
What's something the fans would be surprised to know about you?
That I can take off my socks with my feet.
That's a skill.
Yeah. I'm really good at balancing things, like oddly. I can balance a broom on my finger for like hours. And chairs. I can balance on basketballs just standing on them.
You should have done this on the show!
Oh, you're right. I should have done this for a performance, like "Hidey Ho"!
You would have gotten more votes!
Yeah, you're right. What was I thinking? Next time.
Reporting By Rachel Levine