NEWS
American Idol's Pia Toscano on the Best and Worst Fashion at the 2012 Golden Globe Awards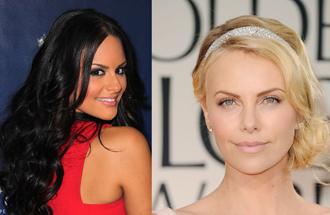 When American Idol's Pia Toscano competed on the reality show last year, she was always talked about for not only her amazing voice, but also for her incredible sense of style. So who better to weigh in on the hits and misses of last night's Golden Globe Awards than the singer herself.
Best Dressed:
Charlize Theron: "I love how she channeled the '20s. A classic, yet sexy look. The loose-side do and embellished headband was a great way to accessorize."
Article continues below advertisement
Kate Beckinsale: "Loved the dramatic silhouette and blush tone, classic."
Sofia Vergara: "Figure-flattering, gorgeous train. I love the textured navy blue."
Salma Hayek: "She looked like an absolute goddess in this black-and-gold Gucci gown. Very sexy and striking."
Angelina Jolie: "Loved the necklace and silhouette, and the ivory-and-red contrast. It was bold yet classic and fit her like a glove."
Jessica Alba: "She was very feminine and elegant in Gucci. The embroidery is stunning and the coloring really complemented her skin tone."
Worst Dressed:
Sarah Michelle Gellar: "Too frumpy and prom-like. I didn't like the blue-and-white ink-blot pattern or the silhouette of the ball gown."
Kelly Osbourne: "I did not like the color or the dress, and I am not a fan of her current hair color or the style."
Emma Stone: "While the burgundy complemented her skin tone, I felt this dress was a little overpowering and dark. Also, not crazy about the eagle-embellished belt."
Article continues below advertisement
Article continues below advertisement
Most Surprising Win:
"Octavia Spencer, who received one of the night's biggest ovations for her role in The Help. Very well-deserved! I always hoped Matt Le Blanc would win for his role as Joey on Friends because I personally think he is hilarious. I am glad he finally won."
Host Ricky Gervais:
"I thought Ricky Gervais was funny and definitely not as offensive as the previous year. I was actually waiting for some more controversy on his part, however, it was fun to see the actors poking fun at him as well. Overall, I'd give him an 8."
Best Speech:
"Kate Winslet for accepting so humbly and acknowledging the other 'incredible heavyweight actresses' she was honored to be nominated with, as well as thanking every single person who took part in the creation of the critically acclaimed miniseries Mildred Pierce, calling it the 'definition of a team effort.'"
Do you agree with all of Pia's picks?