NEWS
American Idol's Stefano Langone Sits Down With OK!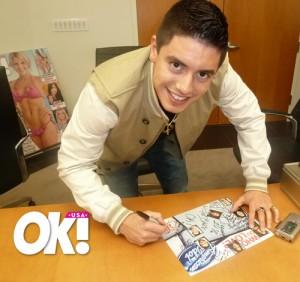 Stefano Langone didn't originally make the cut into the American Idol semi-finals, but he was then chosen by the judges as one of their wildcard picks and boy did he go far! This talented cutie sailed all the way to the Top 7, but sadly that was as far as he got in the competition. Stefano sat down with OK! and talked about his close friendship with finalist James Durbin, if there was any truth to the romance rumors with him and Pia Toscano and where he wants this exposure to take him next.
Article continues below advertisement
When you were originally cut, did you expect be chosen to sing for the wildcard?
I expected to sing for the wildcard. I was ready. I think everybody did. It was so competitive in that moment, but I was so ready. I was so ready to do my song and it all worked out.
OK! VIDEO: WATCH JAMES DURBIN SING "WILL YOU LOVE ME TOMORROW" ON AMERICAN IDOL
Did you think you were going to get picked to stay? Do you think Jennifer Lopez liking you helped?
Yea, I think that helped me but all of the judges discussed who they wanted and it just happened that Jennifer said my name. They all went over the best ones. I was lucky and I got that pick.
Did you think you would get as far you did?
Yea, I was working so hard each week to get better and better and it worked out. I am a fighter. And just like I fought into that position when I was a wildcard, I fought all the way to that top 7. I am super blessed to there.
Article continues below advertisement
Was it hard to be in the bottom 3 with Pia and people said you should have gone?
Everyone related the fact that I was standing up there of her getting cut, with me. But really it had nothing to do with me. I could have been the third pick, but they wanted to put me and her together. It wasn't that I was getting dogged on because I got through, it was everyone reacting to Pia getting cut. The feelings that I felt weren't for anyone else around. It was for her.
Article continues below advertisement
Any truth to romance rumors with you and Pia, and also you and Haley?
You take a picture together and everyone starts tripping out. That's what comes with it.
So no romances with any of the girls?
No.
What about the rumors of a romance between Haley and Casey?
That's definitely not true. Laughs They're friends just like everybody. Just because the press will get a few pictures of them together, but no. Just so you know, Casey's kiss on Jennifer Lopez's cheek was probably the first one he's had in a while. Just saying. It is what it is.
OK! NEWS: MILEY CYRUS MAKES SURPRISE VISIT TO LAUREN ALAINA, TELLS HER TO JUST "DO IT FOR YOURSELF"
Did you choose not to talk more about your accident after the audition shows?
When I did the show I didn't do it because I wanted to get publicity for my crash. I did it because I was a singer. They ate that up so I went with it. Everyone goes through struggles in their life. That's not the only thing that I went through that got me here. It changed my life in a lot of ways. I didn't want to make everything about it.
Article continues below advertisement
You and James got very close. He seemed visibly upset when you got eliminated.
He was very visibly upset. Me and him were roommates since the beginning. We've lived together for almost 6 months now and I am going to be the best man in his wedding. He's a brother to me. I love him dearly. James is a really emotional guy so I knew that he was really upset. I just told him to focus on what he has got to do and to keep killing it. This is his thing. I am proud of him and he is going to do great.
Have you heard of the nicknames for you guys? Do you have a favorite?
Durfano, Durbano. We go around and I call him "The Dragonslayer" and he would call me "The Ladykiller." Laughs So that's our nicknames for each other. That's his nickname for me so I'm not going to argue with him.
Have you heard about the comparisons to Kris Allen and Adam Lambert from Season 8? They were roomies from the beginning, Kris was pop, Adam was rock, etc?
Article continues below advertisement
Oh, I haven't heard that. But that makes sense.
OK!'S AMERICAN IDOL BLOG: THE TOP 6 PERFORM
Have you hung out with former Idols who have come back to the show?
Yes, sometimes they come up the green room after the show. They were all very genuine and really cool people. The one thing that I have noticed about all the people who have done well after this show is they are down to earth and their work ethic is crazy. It's cool to see and to take notes from that. It's who you are as a person that is going to get you to the next level. I would like to continue that with myself.
What was the best piece of advice they offered you?
Rest! And keep working. We are on the go, seven days a week. It never stops.
Are you excited to go on tour?
I can't wait for the tour, but the tour is temporary. I'm ready to start what is going to define me in the industry and that is my career.
What kind of album do you want to do?
A great one. Pop/ R&B. Lyrically, it's kind of like Bruno Mars. Sound-wise, it's between John Legend and Stevie Wonder with that Justin Timberlake kind of swag. It's really fresh and new and clean. And there's a market out there for it now. I'm ready to pounce on it.
Article continues below advertisement
OK! VIDEO: WATCH PIA TOSCANO SING WHILE MARK BALLAS PERFORMS ON DANCING WITH THE STARS
Are there songs you want to sing on tour? Did you have a favorite performance on the show?
Maybe "Lately" on the tour. Or "Closer." Songs that I could really perform. I want to do some new songs, get the crowd involved, maybe bring a lady up on stage.
Are there any songs that you weren't able to do on the show that you would like to do on the tour?
Yes, there's a few. But I am not going to say. It's a surprise.
Before you and Paul, all girls were voted off. Do you still think a girl can win this show?
I do. There's only 2 girls left, it's anybody's game. It's so competitive, the talent is so phenomenal. There is never going to be another Season 10 ever. This has made the mark. This has just blown everything out of the water. To get the response that we have gotten, from pop culture and press. The music industry is saying these kids are real deal doing this music at the level that they're doing at. And to be a part of that is awesome. I'm so honored to have gotten to where I got from the fans to my hometown, everybody. I am excited to take these next few steps.
Article continues below advertisement
Are you excited to go home?
I am not going home. I am working. I am from Washington but I probably won't go home until Christmas. I have to go up there for a day to do a deposition for my crash case but I'm not staying. I am coming back and working. I want to focus on networking and building on the relationships that I've already created with these producers now. It's my career now.
Is is great to make these connections already?
The relationships that I've made on this show is priceless, it's everything. Artists would die to get to work with the people that I've worked with. The amount of respect that I have gotten from them and the amount of respect I have for these people I've worked with. I can't wait to start working with them.
Who do you think will win?
It's everybody's game. My best friend is in the competition, but it is everybody's game.
Do you think Stefano and James will remain close when the show is over? Will you buy Stefano's album? Sound off in the comments below.