NEWS
America's Newest Video Workout Guru Shows How to Prance off the Pounds!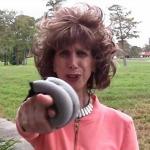 Article continues below advertisement
Joanna, who recently appeared on CNN to talk about Prancercise, explains her workout uses "movements as a springy, rhythmic way of moving forward, similar to a horse's gait and is ideally induced by elation."
Photos: See Snooki's Bikini Body After Her 42-Pound Weight!
Or something else, perhaps? Anyway, strap on some ankle weights, pump up the volume and join Joanna in prancing away the pounds! Or just sit back and get an ab workout with a good belly laugh.
Do you think Joanna is for real or is she really stretching believability with her fitness fad? Tell us your opinion in the comments section or tweet us @OKMagazine.