NEWS
Amy Adams Lands Lois Lane Role in 'Superman' Reboot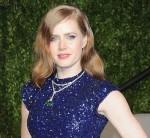 He's faster than a speeding bullet, more powerful than a locomotive and able to leap tall buildings in a single bound! And now Clark Kent has a new Lois Lane. Amy Adams has been officially cast as the leading lady in the upcoming Superman reboot! It's scheduled to be released in 2012 and Henry Cavill has already been cast as the man of steel.
OK! GALLERY: AMY ADAMS SNAPS PICS & GIGGLES WITH AVIANA AT THE PARK
Article continues below advertisement
Zack Snyder, the movie's director, told the Los Angeles Times (via Huffington Post) that he actually called Amy in Paris to tell her the exciting news! "There was a big, giant search for Lois," he explained. "For us it was a big thing and obviously a really important role. We did a lot of auditioning but we had this meeting with Amy Adams and after that I just felt she was perfect for it."
Sounds like Amy's stock is soaring right now after receiving her third Oscar nomination (the most recent one was for her role in The Fighter). She's going to star as Janis Joplin in Janis Joplin: Get it While You Can and will switch things up when she stars in The Muppets movie later this year. She's also in talks to join the star-studded silver screen Rock of Ages musical which is already headlining Tom Cruise, Alec Baldwin and Julianne Hough.