NEWS
Amy Adams Says Picking a Favorite Muppet Would Be Like "Picking a Favorite Child"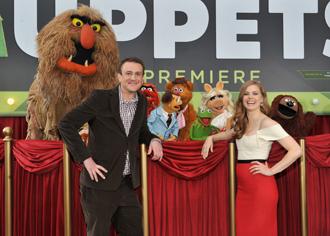 Article continues below advertisement
Amy also talked about what it was like working with the always hilarious Jason. She told OK!, "The funniest part about working with Jason, I think it was his dancing."
"He's very tall, I'm not tall, so there were some moments," Amy explained. "He has some moves. He's got some moves. He sells himself short but he's really great."
OK! NEWS: JASON SEGEL ON THE BIGGEST MUPPETS DIVA — "MISS PIGGY DOMINATED THE SET"
Don't ask her to pick a favorite Muppet though!
"I am a fan of the Muppets but I can't pick a favorite after working with them, that would be like picking a favorite child," she said.
She also won't talk about everyone's favorite Muppet diva!
"You think I'm going to jump in to that pool? No way. I'm not talking about Miss Piggy behind her back. If she was here we could talk about her."
Check out Amy, Jason, Kermit and the rest of the Muppets on Nov. 23!