NEWS
Amy Winehouse Found Dead In Her Apartment at Age 27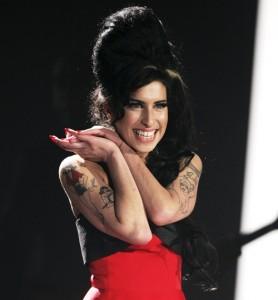 Sad news out of London today, as singer Amy Winehouse has been found dead at age 27 in her home, various media outlets report.
The BBC reports that a Metropolitan Police spokesman confirmed that a woman of 27 had passed in Camden. The cause of death is not yet established.
OK! NEWS: AMY WINEHOUSE CANCELS ENTIRE TOUR
An ambulance was reportedly called to the apartment this afternoon in London, around 4 p.m., but the woman had already died.
Article continues below advertisement
Since shooting to stardom early on in her music career with her 2003 album Frank and later with hits like "Rehab" off 2006's Back to Black Amy has struggled with alcohol and drug addictions. Despite her personal problems, she won five Grammys for that album.
OK! VIDEO: WATCH AMY WINEHOUSE GET BOOED OFFSTAGE IN WOBBLY, MUMBLING BELGRADE PERFORMANCE
However, Amy's trips in and out of hospitals and rehabilitation centers, and her troubled marriage to Blake Fielder-Civil has brought her more infamy in recent years than fame and praise for her music.
Last month she attempted a comeback tour, but then pulled out after an appearance in Serbia where she seemed drunk onstage.
OK! NEWS: AMY WINEHOUSE RETURNS TO MUSIC WITH "IT'S MY PARTY" COVER
When Amy canceled her tour, her spokesman released a statement saying: "Amy Winehouse is withdrawing from all scheduled performances. Everyone involved wishes to do everything they can to help her return to her best and she will be given as long as it takes for this to happen."
As the news began to circulate on Twitter, even the British Prime Minister's wife Sarah Brown had a comment on Amy, says the BBC.
"Sad sad news of Amy Winehouse - great talent, extraordinary voice, and tragic death, condolences to her family," she tweeted.