NEWS
Amy Winehouse's Father Visits Her Home, Says He is "Speechless"; 'Back to Black' Hits the Charts Again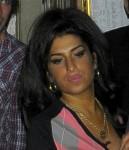 Although police said the late Amy Winehouse's death at age 27 was "unexplained," there is something that is also inexplicable: A parent's loss. Today in London, Amy's father visited her home, thanked fans and indicated her untimely death left him "speechless."
OK! GALLERY: TAKE A LOOK BACK AT AMY WINEHOUSE'S MUSICAL CAREER IN PHOTOS
As reported by The BBC, Mitch Winehouse spoke to fans in Camden Square. "Amy was about one thing and that was love. Her whole life was devoted to her family and her friends and to you guys as well."
Article continues below advertisement
Her mother and brother visited as well to see the flowers, cards and copious amounts of photos that fans provided to pay tribute. In a statement, Amy's family indicated their grave loss: "She leaves a gaping hole in our lives."
OK! NEWS: AMY WINEHOUSE FOUND DEAD IN HER APARTMENT AT AGE 27
The funeral is going to be held as soon as possible but that's only after the police investigation and autopsy are conducted. Spokesman Supt Raj Kholi said, "It would be inappropriate to speculate the cause of death." He added, "My sympathy extends not just to her immediate family but clearly to the thousands and millions of fans across the world."