NEWS
Anderson Cooper on Fukushima Nuclear Power Plant Explosion: "Should I Get Out of Here?"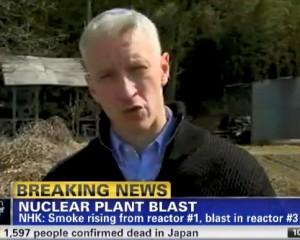 Anderson Cooper put his life in danger to cover the civil unrest in Egypt for CNN and now he's doing it again in Japan. The anchor expressed concern for his and his crew's safety over the weekend during his report.
OK! GALLERY: EARTHQUAKE & TSUNAMI HIT JAPAN — STARS TWEET PRAYERS & SUPPORT
Anderson was talking on the air with Jim Walsh, a nuclear expert, on Sunday night and learned a second explosion was occurring at the Fukushima nuclear power plant, E! News reports.
Article continues below advertisement
"How far are we from Fukushima?" Cooper interrupted the report to ask his staff and crew. "Which way is the wind blowing?"
OK! NEWS: ANDERSON COOPER GOES "UNDERGROUND" IN EGYPT; SAYS HE'S "A LITTLE BIT SCARED"
Anderson learned he was about 100 kilomerters north of the reactor and then asked Walsh, "Should I get out of here?"
"I want to err on the side of caution for you here," Walsh said. "My guess is that you're OK, but I don't want you to sue me if I'm wrong. I'm inclined to think you're OK...but there's a lot of uncertainty here and we're not going to know for a little while."
Anderson decided to go ahead and continue his report.
Watch the video below!