NEWS
Anderson Cooper Puts Kate Gosselin on "The Ridiculist" for Pizza Tirade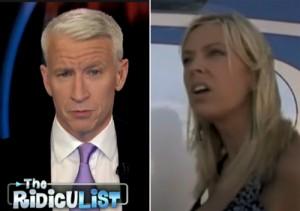 Anderson Cooper is at it again with his "Ridiculist" on CNN's AC360, and this time he's put Kate Gosselin and her tirades over pizza dispersal on notice!
In last nights' Kate Plus 8 on TLC, Kate goes into a bit of a rampage when she realizes that her bodyguard Steve is in need of a slice of pizza on a road trip with her eight kids.
OK! GALLERY: KATE GOSSELIN BRINGS HER BROOD TO THE BARBER SHOP
She demands to know why he doesn't have one, when he "reserved it last night," yelling at babysitter Ashley that the kids can eat salad instead. And when a slice is handed over by a child, Kate flips out again, saying it should've been wrapped in foil first.
Article continues below advertisement