NEWS
Anderson Cooper Releases Statement & Says He's "Very Saddened" About Guest in Coma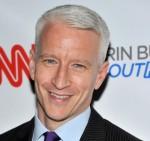 Anderson Cooper's new talk show, Anderson, is facing some heat. Reports are surfacing that a teenager is in a coma after one of the show's producers encouraged him to record reckless behavior for an upcoming show about the teenage mind.
A source told Gawker that a producer "encouraged the kid to go out and 'film the crazy stuff you do.'" According to the report, the teenage boy filmed himself skateboarding and then fell and experienced a severe head injury. Sadly, the boy is now comatose. Anderson recently issued a statement through a spokesperson.
Article continues below advertisement
In a statement, the rep also provided more details surrounding the alleged encouragement: "Our producers were working with a teen and his parents on a show about the science of the Teenage Brain, based on a National Geographic story. As part of our routine process, we ask guests for video footage and photos. We did not provide the family with a camera. On the morning that they were supposed to travel to NYC, we learned that the teen had been injured. We are very concerned about him, and are thinking of him and his family at this time."