NEWS
Andrew Garfield & Emma Stone Talk 'Spider-Man,' Bullying & Love on 'Today'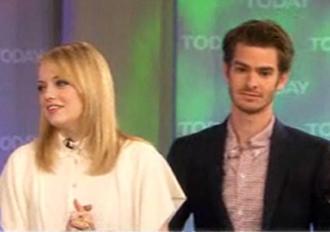 Emma Stone and Andrew Garfield's highly anticipated flick, The Amazing Spider-Man, finally hits theaters next week and the pair, along with the rest of their cast and crew, including Rhys Ifans and Denis Leary, chatted with the hosts of The Today Show about all the hype surrounding the movie.
Andrew, who plays Peter Parker in the film, confessed that he fought to nab the role of Spider-Man... well actually, apparently his dad did all the fighting for him!
Article continues below advertisement
As for why Andrew is such a big fan of Spider-Man, the British actor said that the iconic comic book character stands for much more than many other well-known heroes.
"He's an example and symbol of protection and remembering that all of us as human beings are the same and that we need someone to look out for us — and that's a symbol of a hero that's in each and every one of us," Andrew explained to Ann Curry. "He's the person who wants to protect the underdog and fight for justice. He's just a beautiful symbol."
Article continues below advertisement
OK! NEWS: ANDREW GARFIELD & EMMA STONE GUSH ABOUT SPIDER-MAN CHEMISTRY: THERE WAS A "SPARK"
"Between the ages of six and 12, I experienced bullying and I witnessed it. It's obviously a very, very huge worldwide issue that young people have to deal with and it's wonderful having a teenage example of a hero," Andrew added of Spider-Man. "That's what's defining about Spider-Man... he's a kid like I was and like all these guys are and I think he means so much to so many because of that. He's a symbol of doing the right thing and protecting each other and living in a community as opposed to just as individuals."
And Andrew's real-life girlfriend and co-star Emma agrees, explaining that her character Gwen Stacy saw the real hero in Peter Parker.
"I thought that was a very cool element to Gwen, that she's his equal," Emma said of the romance between Gwen and Peter. "It's a very different experience than what we've seen in the past with Mary Jane. Gwen Stacy is his first love in the comic books and so, it was exciting to dive into that."