NEWS
Andy Rooney's Farewell to '60 Minutes' Video Clip: 'This is a Moment I've Dreaded'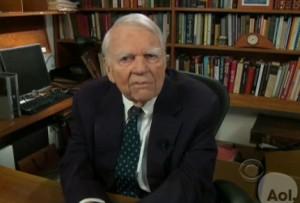 Andy Rooney has spent more than 30 years complaining on 60 Minutes. So during his final essay on Sunday night, Andy got as many complaints in as he could.
OK! NEWS: ANDY ROONEY ENDING HIS 33-YEAR RUN ON 60 MINUTES
Andy is leaving 60 Minutes at the age 0f 92.
"I spent my first 50 years trying to become well-known as a writer and the next 30 trying to avoid being famous," he explained on 60 Minutes. "I walk down the street now and people shout, 'Hey Andy!' and I hate that."
Article continues below advertisement
"This is a moment I've dreaded," Andy admitted. "I wish I could do this forever. I can't though, but I'm not retiring. Writers don't retire and I'll always be a writer."
But Andy did mix in a few compliments.
"A lot of you have sent me wonderful letters and said good things to me when you meet me in the street. I wasn't always gracious about it. I don't say this often, but thank you," he said. " Although, if you do see me in a restaurant, please, just let me eat my dinner."