NEWS
Andy Samberg Impersonates Nicolas Cage at Harvard During Class Day Speech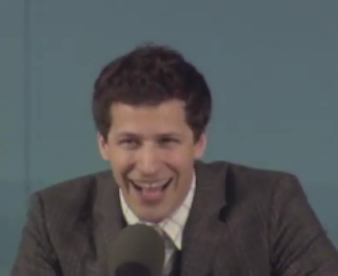 Saturday Night Live star Andy Samberg gave a speech at Harvard yesterday for Class Day — and had them in stitches!
OK! NEWS: ADAM SANDLER, ANDY SAMBERG & LEIGHTON MEESTER STAR IN THAT'S MY BOY MOVIE TRAILER
acording to The Boston Herald, after expressing confusion as to whether he was being granted an honorary degree (turns out he wasn't), Samberg gave a hilarious speech:
"You know, it's hard to know where life will take you from here. What adventures you'll have, what sitcoms you'll write for. But my advice to you is simple: Relax, dude! You just finished college at Harvard. You worked so hard. Trust me, you're going to kill it. I went to Santa Cruz then transferred to film school, and I'm rich!"
Article continues below advertisement
VIDEO: WATCH ANDY SAMBERG & MELISSA MCCARTHY IN NEW SNL PROMO!
As for wondering what makes him so special for giving the speech, he mentioned he didn't get accepted into the prestigious institution. He continued, "I didn't even apply to Harvard, okay? Because I knew I wouldn't get in. Boom! Suck on that. I don't accept you... I break up first. I move on and you see me with my hot new girlfriend, she's riding shotgun in my convertible Sebring."
He also gave a unique message from his "Weekend Update" alter ego, Nicolas Cage. And let's not forget his impressions of Facebook honcho Mark Zuckerberg and Boston native Mark Wahlberg! Catch the entire speech over at Mediate!