NEWS
Andy Samberg & Rashida Jones to Star as a Couple in "Celeste and Jesse Forever"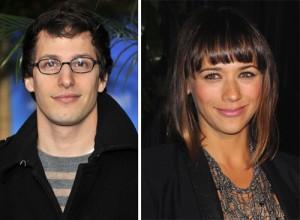 Their paths in romantic comedies have crossed for awhile now, but they'll finally be joined in matrimony in the movies — and then divorcing. Andy Samberg and Rashida Jones are teaming up only to breakup in the new film, Celeste and Jesse Forever.
OK! VIDEO: WATCH ANDY SAMBERG PLAY GOT YOUR NOSE WITH ZACH GALIFIANAKIS
Andy and Rashida, who have shared the screen in I Love You Man and in the upcoming Friends With Benefits, will be playing a couple in an upcoming romantic comedy written by Rashida and Will McCormack.
Article continues below advertisement
But it's different than the Friends With Benefits type films as this deals with a couple who is getting divorced and wants to stay friends.
"Our movie is about two people who love each other a ton but they don't know what to do with that love, and how do you let that person go," Rashida tells the Los Angeles Times. "It's very different from: 'I like having sex with this person because I'm so modern but then, ooh, maybe I like them.' I'm less interested in that story."
OK! NEWS: RASHIDA JONES & JASON SEGEL GET ROMANTIC ON SET
"It's the version of When Harry Met Sally 20 years later, or Blue Valentine," she explained. "It's really about how you break up with someone.'"
And Rashida says Celeste & Jesse is different than the romantic comedies told from the male point of view.
"It's hard to find female leads that are flawed and interesting and dynamic. We wanted to write something that was in the vein of Judd Apatow — you talk like you actually talk with your friends — but with ladies," she said. "I want to do that and not just be someone's girlfriend or wife. I want to be the one to go on the journey."
Are you happy to see Andy and Rashida play a couple on screen?