NEWS
Angelina Jolie is Banned From Filming in Bosnia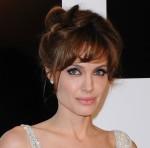 Angelina Jolie won't be allowed to film her directorial debut in Bosnia after a minister revoked her permit amid allegations that the movie provides a "misleading history" of the conflict that beset the region in the 1990s.
The actress is currently shooting the untitled film in Budapest but is scheduled to move production to Bosnia in a month. The movie has been described as a love story between a Serbian man and a Bosnian woman who meet on the eve of the Bosnian War, reports PopEater.
Article continues below advertisement
OK! NEWS: BRAD SUPPORTS ANGELINA'S DIRECTING DEBUT
But in Bosnia-Herzegovina, the media has painted the film as the story of a Serbian rapist and his Muslim victim. "In the film, a victim is really falling in love with her torturer," Bakira Hasecic, president of the Women Victims of War Association, was quoted as saying in Wednesday's Oslobodjenje daily newspaper.
The group said the film would be "misleading history" if it were permitted to film there.
"They no longer have the authorization to shoot in Bosnia," he said in a radio interview. "They will have it if they send us the scenario with a story which will be different from what we have been told by people who read it."
Scout Film has since sent a script to the culture ministry to try and reverse the decision.