NEWS
Angelina Jolie Poses Like a 'Tourist' in Venice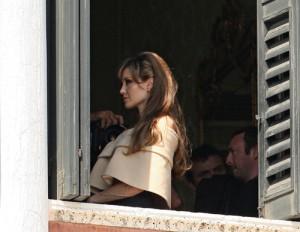 Angelina Jolie did a photo shoot today with famous French fashion photographer Patrick Demarchelier at The Hotel Danelli in Venice. Angelina was dressed in her classic beige ensemble that has become her "uniform" while filming in The Tourist in the Italian city.
OK! EXCLUSIVE: ANGIE & BRAD PLAN PRIVATE CEREMONY
Brad Pitt's parents Bill and Jane Pitt have been staying with their son and Angie in Venice, helping Brad take care of their grandkids!
Article continues below advertisement
OK! EXCLUSIVE: JANE PITT SUPPORTS AN ANGIE & BRAD WEDDING
Jane is in full support of nuptials between Angelina and her son, a source tells OK!
"Jane has a hard time with Angelina at first, but she now accepts that her relationship with Brad is the real deal," a source tells OK!. "She has acknowledged that Jennifer Aniston isn't coming back and realizes that she needs to treat Angie as a daughter and the mother of her grandchildren."