NEWS
Angelina Jolie Prepares for 'Cleopatra' Role; Says "Performance Will Never Be as Lovely as Elizabeth's"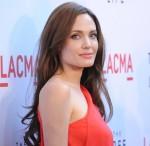 Angelina Jolie is perhaps our generation's stunning shining star just as Elizabeth Taylor was in her prime. So, it's no surprise as Angelina takes on director David Fincher's Cleopatra that she's aware of the weight that comes along with it.
OK! GALLERY: BRAD PITT & ANGELINA JOLIE SHINE AT TREE OF LIFE L.A. PREMIERE
The reboot about the Egyptian pharoah first became known when Elizabeth played the leading role in 1963. It actually wasn't her best film since it was delayed and apparently a $44 million disaster, according to the Huffington Post.
Article continues below advertisement
As for the role itself, the Oscar winner is going to focus on brains over beauty. "We are trying to get into a different truth about her as a pharaoh in history and not as a sex symbol, because she really wasn't. Even this idea of her having many lovers - it was possible that it was only two. She is very interesting, but she wasn't a great beauty."
Cleopatra is expected to hit theaters in two years.