NEWS
Angelina Jolie Says She & Brad Pitt Don't Want to Settle Down: "My Kids Love to Travel"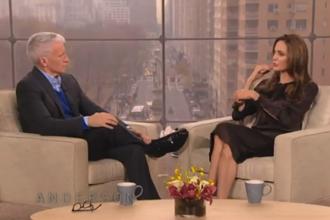 Angelina Jolie hopes that her six kids with Brad Pitt will never give up their love of traveling — for her sake!
The writer and director of the new film In the Land of Blood and Honey revealed that she never wants to settle down in one place, but she would if her kids told her they're done being nomads.
OK! GALLERY: ANGELINA JOLIE LOOKS STUNNING AT THE 'IN THE LAND OF BLOOD & HONEY' PREMIERE
"I will listen, as my mother would have listened to them, and if they start to complain about it or something... right now they love it," Angelina tells Anderson Cooper in an exclusive interview airing today on Anderson. "Right now, if they are in one place for two months they want to know why we're not getting on an airplane. They love to travel."
Article continues below advertisement
And that love of travel comes from mom and dad, who are known for their on-the-go lifestyle. Angie calls Maddox, Pax, Zahara, Shiloh, Knox and Vivienne a "big traveling pack" and insists that she and Brad will one day have to travel around the world just to see their grandchildren!
OK! NEWS: ANGELINA JOLIE ON HOW SHE'LL TELL HER KIDS ABOUT HER WILD PAST
"I don't want to settle. I love traveling," says Angie when asked where or when she'll settle down. "We'll see what happens. They will probably end up living all around the world and that will be my old age... Brad and I traveling around the world to try to visit our grandchildren in random countries."
We're worried Brangelina might be too busy hopping on one plane to another to squeeze movies into the mix. Watch Angelina's interview with Anderson here.