NEWS
Anna Kendrick: "If You Don't Like 'Twilight,' Don't Buy a Ticket"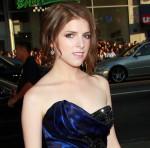 Article continues below advertisement
Although her role hasn't earned her the attention Kristen, Robert Pattinson and Taylor Lautner now have, she's happy to be a part of it.
"I just feel really lucky to be in it but not have my privacy completely compromised by it," Anna recently told the Wall Street Journal's Speakeasy. "I'm glad that the paparazzi haven't followed me every day this year. I do not wish to be in that position."
However, Anna, who turned 25 on Monday, is very appreciative of the passion Twi-hards have.
"People like to make fun of the fans who camp out but people have renaissance faires; people do Civil War reenactments; people do what they like," Anna explained. "I'm tired of hearing people rag on the fans."
OK! NEWS: JACKSON RATHBONE ON BREAKING DAWN — THEY GOTTA CONSUMMATE THAT RELATIONSHIP
"If you don't like Twilight, don't buy a ticket."