NEWS
Christina Ricci Says R-Pattz is an "Awesome" Kisser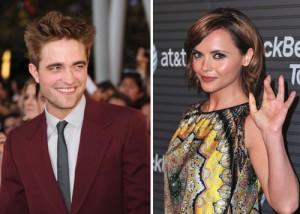 Careful what you say, Christina Ricci — you're about to have quite a few Robert Pattinson fans extremely jealous of you! Christina co-stars with Rob in the upcoming flick Bel Ami, and revealed that when it comes to locking lips, the sought-after Brit is way above average.
Christina dished to the dirt to E! News at BlackBerry's launch party for the new BlackBerry Torch from AT&T last night in L.A.
"It was really fun, I mean just aesthetically we wore amazing costumes and hair and make up was great," Christina explained of the general perks of the movie. Okay, get on to R-Pattz! "And working with Rob was amazing. He's such a great guy, so talented."
Article continues below advertisement
"There's some naughtiness," Christina admitted to E!, which begs the question everyone wants to know: Is Rob a good kisser?
"Um yeah," Christina said with a smile. "He is pretty much awesome."
OK! NEWS: VAMPIRES SUCK STARS TELL TWILIGHT STARS TO FEEL FLATTERED
As if all of that inside Rob knowledge wasn't enough, Christina kept going, discussing Kristen Stewart hanging out in Budapest to be with Rob as he filmed.
"Yeah she visited," Christina said. "I love her, she is totally sweet. And he is great!"
OK! NEWS: LIZZY PATTINSON PERFORMS SONG SHE WROTE WITH R-PATTZ
And lest you all get too jealous, Christina knows why R-Pattz fans like him so much.
"I understand where they're coming from," she admitted. " He's an awesome human being. He's so funny and quirky and weird."