NEWS
Anna Nicole Smith Opera Premieres in London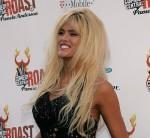 It's been four years since Anna Nicole Smith's untimely death but in London, they're celebrating the stripper-turned-model's life with an opera. Yes, you read that right — an opera! Anna Nicole premiered last night and looks like there's quite an interest in the show — six performances sold out before the show even opened!
OK! NEWS: HOWARD K. STERN GETS TOSSED IN CONVICTION OF ANNA NICOLE CASE
According to CNN, Richard Thomas, the show's lyricist explained, "It's a rags-to-riches story and a cautionary tale all chuckled into a blender and whooshed up with three bags of sugar and two bottles of tequila and poured over a two-hour time frame."  Mark-Anthony Turnage, the composer, explained, "It's not a docu-opera. We're making a drama out of it. This is entertainment  — a romp, before the end, which is the reverse." Plus, he notes she wasn't just a "dumb blonde." Her life "touches on so many things, it seemed to encapsulate the 21st century."
Article continues below advertisement
OK! NEWS: ANNA NICOLE SMITH JUDGE SAYS SHE WAS POTENTIALLY MURDERED
The composer also notes that Anna Nicole's story was pretty universal. "I wanted to tell the story about a single mom. She makes some good choices. She makes some bad choices. Then she runs out of choices." Although their universal story must hit home with theater-goers who checked out the premiere last night, it wasn't exactly what the Royal Opera House could have imagined when the brains behind the opera commissioned it from them.
According to Elaine Padmore, the head of the opera, noted, "We were shaken — then stirred — as we saw the possibilities. She adds, "Bad girls have always been the stuff of opera," she said. "Think of Carmen and Traviata. Why shouldn't Anna Nicole join opera's women?"