NEWS
Anne Hathaway on Her "Crazy" Diet for 'Les Mis' & Her Catwoman Suit for 'Dark Knight Rises'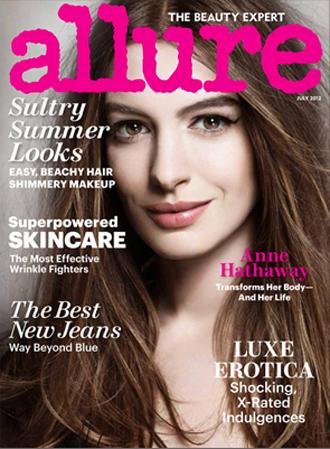 Anne Hathaway stars in two major movies that will hit theaters this year — first she'll appear as Catwoman in the final installment of Christopher Nolan's Batman trilogy, The Dark Knight Rises, and then she'll sing alongside Hugh Jackman in the movie-musical Les Misérables.
Although the flicks are very different, Anne suffered through some strenuous diet and fitness routines for both of her highly anticipated roles.
Article continues below advertisement
OK! GALLERY: ANNE HATHWAY SPORTS MYSTERIOUS ARM SLING & SHORT HAIR IN NYC
"The Catwoman suit: It was a psychological terrorist," Anne joked to the July issue of Allure, which she covers. "The suit, thoughts of my suit, changing my life so I would fit into that suit… it dominated my year. I went into the gym for 10 months and didn't come out."
For Les Mis, Anne went on an extreme diet because she plays Fantine, a homeless mother struggling to support her young daughter.
"I'm doing some crazy weight stuff right now," Anne explained of prepping for the movie days before she shaved her head to fully portray Fantine, who sells her hair for money to survive. "I'm on day six of detox…. This diet makes me break out, so I love that. Nothing like living on hummus and radishes and then be all, 'And I got a pimple. Yeah!'"
Anne, who is a self-professed vegan, says her diet change was a "transformation," but she still slips from time to time. "Cheese is amazing but once you're over the cheese hump, there's nothing really left," she said.