NEWS
Anne Hathaway's Romantic Double Date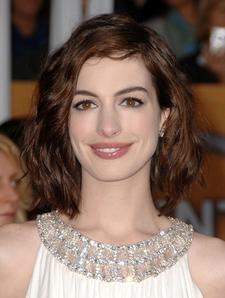 It was a night of double the pleasure and double the romantic fun for Oscar-nominated actress Anne Hathaway – something the brunette beauty definitely deserves after her recent heartbreak over ex Raffaello Follieri.
Things were definitely looking up for the Rachel Getting Married starlet on a Jan. 24 double date with new beau Adam Shulman, along with gal pal Emily Blunt and John Krasinski.
The two couples were spotted dining together at chic L.A. tapas restaurant A.O.C. on Saturday, with Anne cuddling happily with her new man. The new duo were nestled in one of the sleek tailored green leather booths, and had plenty of privacy in the very limited upstairs area where the foursome shared an intimate dinner.
Article continues below advertisement
"Anne and Adam did share some kisses," says an onlooker. "They were also holding hands, and looked content. The group looked like they were having a great time!"
The Devil Wears Prada co-stars and friends both broke up with their long-term boyfriends last summer (Anne's ex Raffaello is currently serving a jail sentence for fraud), so it's good to see these ladies out enjoying themselves!
By Patricia Ramos