NEWS
Anoop Desai Dishes On New CD & Post 'Idol' Life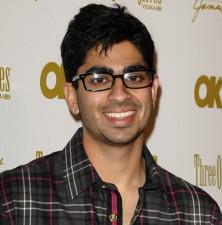 Anoop Desai stopped by the OK! NYC offices and opened up about transitioning from the American Idol stage and his new music career. The Idol alum couldn't be more excited to release his new EP — Anoop's single "My Name" debuted last week, and is already generating buzz. Check out OK!'s interview with the up-and-coming artist!
What is the transition like from American Idol to reality?
There are a lot of transitions from Idol. By the time you're done with the tour, you almost take it for granted, that feeling. You can walk down the street and people will recognize you, you take that for granted. For me, I moved out to L.A. to try and restart my career and things just fell off the face of the Earth. I think that's when you realize it. I think it's very natural for someone's head to get inflated when you're in front of 30 million people and you got people cheering for you and all that stuff, and then like I said when you look back at it, it's almost like man, maybe I was being more false than I thought I was.
Article continues below advertisement
OK! BLOG: ANOOP DESAI'S IDOL DISH
So how did you get back on track?
It was a tough decision because at first, all I knew, the only path I knew was, alright you got to get a record deal with one of the majors and you got to play that game and everything is taken care of for you. Because that's how Idol was pretty much, and that's sort of the path they want you to take. For me, it was a process of about a month where I really realized that wasn't going to happen, so I put my eggs in different baskets in terms of PR, management really going where I was needed and wanted, not trying to get some big conglomerate to notice me. It's like I knew I was writing good songs, I knew my fans would buy this stuff. I knew that there was this potential there. So even if Warner or Sony didn't see it, it's like well I still got to go do it.
Everyone's got your best interest in mind...
Yeah, totally, which is a very nice feeling. I'm a worrier by nature and it's just cool because my best friend plays guitar with me, so it works.
The EP is coming out in May, the single came out this week. Is the EP like 4 or 5 songs?
Interestingly enough, it started out as an EP, but by the time we got done mixing and doing all these songs, it's now a short album. It's 8 songs. I'm really proud of that. Everything is taking place in a really short period of time. November was probably the worst month of my life, because I had pink eye. You feel like everyone is staring at you. I had it for two months. I went to the eye doctor seven times in the span of two weeks. My car got impounded from the L.A. airport. That was a period that no one was calling me back. Now, it's four months later and things have done a complete 180.
Article continues below advertisement
That's amazing in a year to go from being on Idol and having pink eye for 2 months and then this EP.
In all of that, there was a moment of clarity. It all started turning around I think it was December 3 or 4. I finally got my car back. I was in L.A. and I saw someone I hadn't seen in five years on purpose. I was like this cannot get any worse and then suddenly I was so angry that I had this moment of clarity where I was like I'm going to start working out again, I'm going to write and get the ball rolling. And that's really been the spirit behind this whole independent approach — it doesn't pay to wait for anyone, to try to be anyone else or play anyone else's game. If you have enough in you, that's good and people want to help you, they'll help you.
I have to ask about the line in your new single "My Name" — something like, "poppin' like a toaster"?
Brandon Rogers (American Idol Season 6) and I, when we first started writing the song, it was late at night and we just started throwing out all these cliches really, and that was one that got us both laughing. But for me that opening line sort of sets the tone for what I see the song being about. So every song on the album, is really sort of about different times in my life or different relationships I've been in, and so "My Name" is really describing a time like when you first get into college you want to have everyone think that you're cool, so it's all about acting a certain way that really isn't you. I definitely went through that phase and I think a lot of people have gone through that phase where you try to like front basically, my hope is that people will realize, I don't actually talk like that, so for me that was the expression of the front. This song is about that time.
Article continues below advertisement
Are you going to go on tour with this album?
Yeah. Definitely. I haven't actually gotten on stage and sung for months. But yeah, we're doing that and looking forward to a pretty cool summer tour, not only here. One of the big outreaches that we're doing is internationally especially in India and the Philippines, places that I already have a big fan base. It's a matter of going there and getting involved with that market which I'm really looking forward to doing.
Fans across seas always seem to be the craziest...
It's wild. We're working on a distribution deal in India right now. It's cool because American Idol wherever is huge. I was in London two weeks ago, got off the plane and the first person I talked to was the customs office who looked at my passport and he like looked at me. I guess you get used to it, but that's still like "oh, sweet."
Article continues below advertisement
Do you keep in touch with a lot of the Idol contestants?
Yeah totally. Obviously, Brandon was season 6. Elliott Yamin, I visit with him every once in awhile, very cool guy. It's weird. We all have that common experience that we went through. Whenever you meet someone at a party or whatever, there's always that to talk about. But especially the guys on my season, there are nine other people I spent the better part of eight months with. It's hard to just let those connections go.
BE SURE TO CHECK OUT ANOOP'S SEASON 9 AMERICAN IDOL DISH EVERY WEEK ON OKMAGAZINE.COM!
Interview by Mary Beth Quirk