NEWS
OK! Blog: Anoop Desai's 'Idol' Dish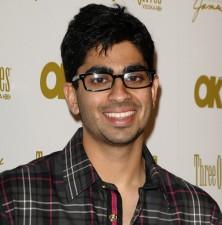 Of the more than one million people across the country who have auditioned for American Idol, only a few dozen know what it's truly like to live the Idol life. And that's why OKmagazine.com has brought in an expert! Every week, former finalist Anoop Desai shares his insights on the new season, only for OK!.
I've had to explain away many of the inadequacies of this season by telling people about what it's like on the inside of the "Idol Bubble."
Article continues below advertisement
A lot of viewers don't realize the daily rigors of being on the biggest show in the history of television: stress, interviews, the blogosphere, being away from home, worrying about wardrobe... and that's before you even begin to think about what song you're about to sing in front of tens of millions of people. It's a hard but rewarding life on the show. I always tell people that they should stay tuned in because they never know when the breakout performance will happen. I still maintain that.
OK! EXCLUSIVE: ANOOP DESAI DISHES ON NEW ALBUM & LIFE AFTER IDOL
But there's no getting around the fact that last week's show was underwhelming. I unexpectedly loved Miley Cyrus' advice to the contestants, but no degree of sound advice about showmanship is going to mask a bad song choice. And unfortunately, there were too many of those. Paige Miles' mistake (in addition to starting at the back of the stage where there's no way she could have heard herself in any monitor) was not that she picked the worst song, but that she had the least confidence. Even Tim Urban tried to spice it up with an oddly West Side Story-ish rendition of "Crazy Little Thing Called Love."
Article continues below advertisement
To be successful on Idol, you've got to fight. Paige seemed like she had given up, even admitting to the judges in front of a national audience that it wasn't good. Can't do that.
OK! INTERVIEW: AMERICAN IDOL CAST-OFF LACEY BROWN
My friend Alexis Grace was in the 11th spot last year, and I know that it hurts to leave right before the cutoff for the summer tour. Alexis never should have left the show that week, and I think Paige is a much better singer than America saw. The tour is the goal. Not only is it an amazing experience, but it helps many of us be financially stable so that we can pursue other avenues for our music. It's exposure, it's fun, and it's a paying gig. It's going to be an interesting experience to see how this year's tour shapes up —frankly, there are going to be a couple people who feel unappreciated. That's because this year, more than most, there are clear favorites and there are the people who are simply sticking around. There's no in between.
OK! NEWS: AMERICAN IDOL ELIMINATION — WHAT YOU DIDN'T SEE ON TV
And that is what I think people are trying to express when they say that this season is lacking. There's no underdog. There's no dark horse. It's predictable. That's what the contestants need to learn now. They can't go through the rest of the Top 10 being predictable.
R&B week will be the perfect place to break the bread and water reputation of this season. It's such a far reaching genre; one that I wish I could have had last year. Many of the greatest melodies in pop music, songs from Sam Cooke, to Motown, to Boyz II Men, to Usher are encompassed in this week's songbook. It'll be a hard song choice week, though. I think one of the drawbacks of last week's theme was that it was TOO far reaching. I hope that's not the case with R&B.
Until then, let's hope for the breakout performance we've all been waiting for.
Anoop
Follow Anoop on Twitter at !