NEWS
Anthony Bourdain on Paula Deen's Diabetes Drug Endorsement: "It's in Bad Taste"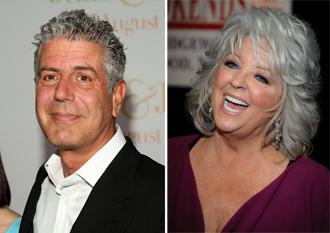 It's a well-known fact that chef Anthony Bourdain and Paula Deen are not best friends — or friends at all. But when it comes to slamming Paula after her announcement that she has type 2 diabetes, Anthony's not going to do it. But he does have a problem with her endorsing a diabetes drug as a result of her diagnosis.
OK! NEWS: PAULA DEEN HAS TYPE 2 DIABETES — 'IT'S NOT A DEATH SENTENCE'
In an interview on Monday with Eater, Anthony was questioned about what he thought of Paula's announcement that she has diabetes.
Article continues below advertisement
"Clearly this has been coming for a while. She's been looking for ways to position herself," Anthony said. "Is she really going to be selling the cure now? Or will she back off for a decent interval? I take no pleasure in it. There ain't nothing funny about diabetes."
However, Anthony doesn't agree with Paula reportedly endorsing drug-maker Novo Nordisk, USA Today reports. The Food Network star, 64, is reportedly using their drug Victoza to treat her diabetes.
OK! NEWS: PAULA DEEN RESPONDS TO ANTHONY BOURDAIN'S CRITICISM — "GET A LIFE"
"When your signature dish is hamburger in between a doughnut, and you've been cheerfully selling this stuff knowing all along that you've got type 2 diabetes... It's in bad taste if nothing else," Anthony, star of the Travel Channel's No Reservations and The Layover.
To perhaps further his point, Anthony Tweeted on Tuesday night, "Thinking of getting into the leg-breaking business, so I can profitably sell crutches later."
Do you agree with Anthony that Paula's drug endorsement is "in bad taste?"