NEWS
Anthony Weiner's Porn Star Pal Ginger Lee Holds Press Conference to Share Sext Messages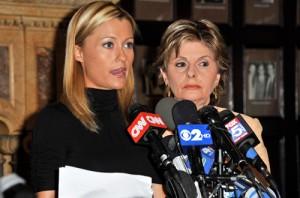 Article continues below advertisement
Examples of messages include: "Alright, my package and I are not going to beg. We both see the hazard of going down the path of comparative sexiness" and "You aren't giving my package due credit."
And Ginger says she never responded to his emails.
"Once the electronic communications began, we did communicate on a fairly regular basis. However, I did not sext Anthony Weiner. I did not send photos to him or receive any from him," she claimed. "Any time that he'd take our communications in a sexual direction, I did not reciprocate. When the Tweet regarding his crotch went out, I'd already been told by him about a Twitter sex scandal on the horizon."
"I think that Anthony Weiner should resign because he lied to the public and the press for more than a week," she said. "It might never have turned into this if he told the truth, but he kept lying."