NEWS
A.P. Votes Taylor Swift Entertainer of the Year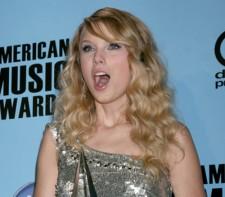 There is no doubt that 2009 has been a monumental year for America's country queen Taylor Swift.  Now, the 20-year-old songstress has one more honor to add to her large portfolio of victories: The Associated Press Entertainer of the Year. "I am so honored and so excited," Taylor told the AP. "This was so unexpected, and I could not be more grateful."
Taylor was crowned in the top spot by newspaper editors and broadcast producers nationwide in a survey conducted by the AP. Her predecessors, last year's vote Tina Fey and 2007's winner, funnyman Stephen Colbert.
Article continues below advertisement
"In a time of 'made' musicians, she writes her own songs and has her own sparkly style," said Danielle Kiracofe, entertainment editor for the Stars and Stripes military newspaper, who voted for Taylor . "She's managed to do all of this with grace, class and poise — and without uttering a swear word, dancing on a pole or wearing next to nothing. At the age of 20."
So why was 2009 so big for Taylor? Well she headlined a sold-out tour across 52 cities in North America,
won album of the year  for Fearless at the Country Music Awards, was honored with five American Music Awards (including artist of the year), successfully engaged audiences across the country as the host of Saturday Night Live and performed live at the Grammys.
Topping it off, at one point in the 2009 Taylor had eight songs on the Billboard Hot 100 chart including hits like Love Story and White Horse, the AP reports.
Article continues below advertisement
She told the AP that many nights of her year were "golden and shiny and I'll remember forever."
Taylor added that SNL was an experience she will never forget.
"That entire week was life-changing, honestly," she said. "It makes you feel so thankful to be a part of the music industry, but more than that, to me, SNL is show business."
Perhaps another memorable Swift moment of 2009 was her graciousness after being interrupted on stage during her acceptance of best female video by Kanye West at the MTV Music Awards.
Taylor came out unscathed and continued to have one of the best  year's of her career.
What's in store for Taylor in 2010? Well she is taking a big step, and moving out of her family home. As for adding to her already hefty trophy collection, Taylor is nominated for eight awards at the Grammy's in January.
"The second that I put out Fearless, the moment that album came out and I was done with it, I started writing for my next album," Taylor said. "I love to plan 20 steps ahead of myself, and it's really fun competition game that I play with myself, trying to top what I've done last. For this next record, that's all that I've been thinking about, that's all that my mind has been fixated on for the last year, and it's all that I'm going to be thinking about for this next year."